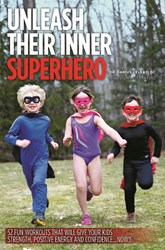 Long Beach, CA (PRWEB) September 27, 2013
For parents that are looking for a way to get their kids up off the couch and outside, then Dr. Veleas' new book, "Unleash Thier Inner Superhero: 52 Fun Workouts That Will Give Your Kids Strength, Positive Energy, and Confidence Now," which is free for Kindle, is just what they are looking for.
Veleas wrote this book after taking his three kids on a local 1k fun run. His oldest, who was 6 at the time, hated it. The reason? Because she was way behind all of her friends. Even though it was only a 1k, fun, event, he found himself carrying her for most of the course.
"She cried so much after doing so little that I realized that I could not let this happen ever again. So I immediately put together a kid friendly exercise program and starting doing it with her and her friends out in front of the house. The results were outstanding!" stated Dr. Veleas.
Veleas has stated that the purpose of the book is not to get kids to workout for the same reasons that adults might, that being to lose weight, but rather the book is designed to get kids active and enjoying a daily exercise routine.
"My daughter's confidence soared after exercising for only two weeks. Once she saw how easy it was to get dramatic improvements from doing simple exercises consistently, her entire outlook changed," commented Dr. Veleas.
Veleas' book, is broken down into 52 weeks of simple, kid friendly workout routines. The book is laid out like a workbook so that the parent can make notes and comments about their child's experience with each specific exercise, noting which ones they like and which ones need improvement. In a stroke of genius, Veleas included links to his website which include "how-to" pictures for parents to use when they see an exercise they don't recognize.
On Friday, September 27th, 2013, Dr. Darius Veleas' book is being made available for free as a kindle download from Amazon. The book is available here: http://www.amazon.com/Unleash-Their-Inner-Superhero-ebook/dp/B00F5BVKGC/.