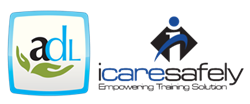 Reno, Nevada (PRWEB) September 30, 2013
Coupling the best home care software with the best training courses for caregivers, ADLware expects this partnership to have lasting effect on all who use it. Since ADLware's inception, the company has continued to expand its reach into all aspects of home care operations and management.
"ADLware was built to improve the operations and communication of home care companies, large and small," said Michael McAlpin, President of ADLware. "The iCareSafely platform follows this philosophy by allowing a self-paced online learning experience, while ensuring high quality education. We are pleased to recommend iCareSafely to help agencies better train the manage the many caregivers they employee."
iCareSafely is a training tool, created by home care agency owners. Realizing that training time was costly and time consuming, Paul and Tammy Sisson wanted to find a streamlined approach to training their caregivers. They created the solution in iCareSafely.
"We wanted a program that would allow you to train each new hire as they came on board, with speed, accuracy, and a significant cost savings," Tammy Sisson said. "That's exactly what iCareSafely can do for you."
The program offers courses focused on properly training those who care for others and meeting most states training requirements. Each caregiver who completes the interactive course receives a certificate of completion, while their agencies are provided with the details of the coursework and results of each training item.
Over the next 10 years caregiving will increase dramatically. iCareSafely provides a solution to the need for quality training in the home care market. With this new program home care agencies are able to train caregivers in a timely and cost efficient manner, while also improving caregiver's knowledge and understanding of their responsibilities.