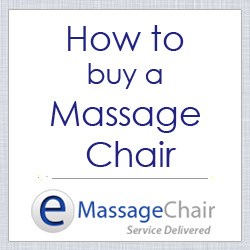 "Our customers are well informed and do their research! We appreciate that and provide as much helpful product information as possible. Knowledge really is power!" says Emery, a Customer Support specialist at Emassagehciar.com.
Las Vegas, NV (PRWEB) September 30, 2013
When a shopper first steps in to the massage chair world, they may find it a daunting place. The massage chair "lingo," chair features, technology, brands, and pricing may feel like learning a new language. To get visitors up to speed and speaking "massage chair" in no time, Emassagechair.com has some great tools to help decipher the massage chair code and get them relaxing in the massage chair just right for them.
If a shopper has never had a massage or has never sat in a massage chair, they may be worried that they don't know what style of massage they like or which massage chair will provide the best massage for them. Shoppers can rest easy by calling in to speak with a massage chair expert that has personally tried the different massage chair models. "We all have had the opportunity to try the massage chairs that we carry, some quite extensively, and we're happy to provide our insight," says Matt a Massage Chair Expert at Emassagechair.com. If a visitor is wanting more information on a specific chair or has any question at all about massage chairs, they can submit a question to "Ask Heather" a segment on the website that allows them to interact directly with Heather, another of the Massage Chair Experts.
Taking another step towards simplifying the online shopping experience, the Massage Chair Experts have reviewed many of their best sellers in their Massage Chair Review section. The experts describe the overall style of the massage, the styling, pricing, and any unique special feature that the massage chair has. These massage chair reviews are especially helpful as many shoppers are not able to find the massage chair in a local store. Visitors have a guided tour of the massage chair by a real person that has used the very chair they are looking for. Shoppers can also find helpful massage chair comparisons that will tell the differences between similar massage chair models. Look for these helpful tools in the "Learning Center" on the website.
If a shopper has never heard of Zero Gravity, or are thinking what on earth is an airbag, they'll want to go to the "Massage Chair Buying Guide" immediately! Emassagechair.com really wants an informed customer as they believe that the more their customers know about your product the happier they'll be when they're using it. "Our customers are well informed and do their research! We appreciate that and provide as much helpful product information as possible. Knowledge really is power!" says Emery, a Customer Support specialist at Emassagehciar.com. Aren't sure where to start? Start at the Buying Guide, which can also be found in the "Learning Center."
When a customer has narrowed their list down to a few massage chairs, they can use their massage chair comparison tool to weigh the product features side by side. If a customer only wants a chair in Brown, it's not a problem! They can easily see various brands and various models to find out which chairs have the features or options available that are on their list. Customers save time by seeing everything they need to know on one page.
The team at Emassagechair.com aims to provide shoppers with the information that they need to make their massage chair purchase with confidence. In some massage chair brands there may not be a local retailer for the customer to "try it before you buy it." In order to virtually demonstrate the massage chairs that they carry, the Massage Chair Experts have created helpful massage chair videos. These videos will show their customers in detail the special features of each chair and gives them an up close view of what they'll be getting so that there are no surprises when they have their new massage chair in their home. Visitors can watch the videos on the website or on YouTube.
If a shopper it not sure that they can afford a massage chair, the team at Emassagechair.com can find a chair in the customers price range and make sure that it tackles any troubles that they are having. Customers can easily search the website by price using the price tool. This resource allows them to narrow down their search and see only chairs that fit their budget.
Purchasing a massage chair online just got a lot easier with Emassagechair.com and their shopping tools. Do you have any questions? You can ask an expert by calling 888.360.9996 or emailing support(at)emassagechair(dot)com.
Emassagechair.com is a leader in the massage chair industry providing expert massage chair knowledge and excellent customer service.
Contact:
888.360.9996
support(at)emassagechair(dot)com
http://www.emassagechair.com