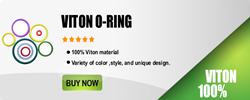 (PRWEB) September 28, 2013
There are many reasons to explain why TOGOHK.com's Viton o-rings sell well in the global market, and reliable quality is an important point that leads to TOGOHK's success. Today, the company announces a special offer on its Viton o-rings for all the Viton o-rings wholesalers worldwide, up to 35% off.
TOGOHK.com is a popular manufacturer and supplier of Viton O-rings, silicone molds and other Silicone products. The company has put much emphasis on product's quality. The company states that every model can be designed to match just about anyone's need.
The company keeps up with the most recent technologies and takes pride in employing the latest techniques. Customers can see some of the fantastic designs on its regularly updated website. As a leader in the industry, TOGOHK.com provides many popular Viton O-rings in the market.
"We are excited to launch the promotion for the Viton o-rings wholesalers to expand our market share. Our quality standard is at a very high level, and it expands the possibilities for the user to make more profits. All our products can meet the designed requirements," says the CEO of TOGOHK.com.
About TOGOHK.com
Founded in 2003, TOGOHK is a globally accomplished silicone product development company that has developed into a modern enterprise that offers its clients worldwide a one-stop silicone product solution from conception to delivery. With high technology engineering and advanced CAD and CAM, the company has been serving more than 3000 customers from over 70 countries.
For more information about the business, please visit their website at: http://www.togohk.com/viton-o-rings-size-chart/