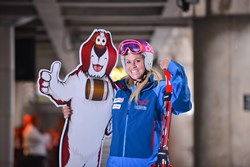 London (PRWEB UK) 29 September 2013
Specialist insurer Columbus Direct is delighted to announce that it is sponsoring Chemmy Alcott, one of the UK's top skiing hopefuls as she prepares for next year's Winter Olympic Games in Sochi.
Considered to be the UK's most successful winter athlete, Chemmy finished 11th at the Vancouver 2010 Winter Olympic Games and is targeting a top-eight finish in Russia in February 2014. Her continuous drive and determination has not stopped her, even when she has had set-backs including recently re-breaking her leg.
The sponsorship comes as Columbus gets ready to launch Columbus SKI – following the recent merger of specialist provider Complete-ski.com into Columbus Direct.
Rob Thomas, Head of Marketing at Columbus Direct said: "We are thrilled to be working with Chemmy, she is such a great athlete and a fantastic role model who lives life to the full and we hope our support can help her achieve her Olympic dreams. We look forward to working with Chemmy and to seeing her go for gold at the Winter Olympics next year.
Commenting on winter sports in general, Rob added: "Winter sports enthusiasts tend to be creatures of habit, wanting the adrenaline rush that the sport can deliver time after time. Consequently, there is a greater risk of accidents on the slopes than on the beach so specialist ski insurance is an essential purchase, even for the most accomplished skiers.
"As the ski season approaches, we will be launching Columbus SKI - a new range of enhanced ski and winter sports insurance options for our customers. Chemmy will be supporting our efforts by providing tips, advice and comments on an exclusive blog for our website as well as providing video blogs and supporting events."
Chemmy Alcott commented: "I am very excited to be supported by Columbus Direct and look forward to working with the Columbus team as I prepare for the 2014 Winter Olympics. Their support will be invaluable to me as I recover from my recent injury and resume my rigorous training regime for Sochi."