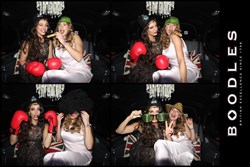 The event was a real success as well as very entertaining and a great chance to help raise funds for the charity
(PRWEB UK) 27 September 2013
Taxi and photo booth hire company Megabooth were at a stunning charity boxing ball attended by royalty and celebrities at the London Grosvenor House Hotel on Saturday, 21 September. Big name guests included Prince Harry, Katherine Jenkins, Denise Lewis and Pippa Middleton.
The team at Megabooth used its design expertise to provide a stylish wrapped taxi photo booth to take Richard Branson and Kelly Brook to the event. And the journey wouldn't have been complete without a trademark pair of red boxing gloves!
The black-tie event was the fourth organised to raise funds for deserving causes and Megabooth was delighted to play its part. The night was guaranteed to be full of excitement, with the tickets having sold out within 24 hours. It was a heady mix of chandeliers, champagne and outright testosterone.
Twelve plucky men – with no previous fighting experience - trained hard to get themselves match fit and provide the glamorous audience with a night of great boxing bouts. However, the most important result was the £200,000 that was raised for The Starlight Children's Foundation.
Megabooth was able to get involved because it's dedicated to providing innovative ways of capturing those special moments by building photo booths in the back of vintage cars. The taxis are an unusual way of arriving in style and are guaranteed to get you noticed!
Elliot Gold Head of events at Megabooth said "We were delighted to attend Boodles Boxing Ball this year. The event was a real success as well as very entertaining and a great chance to help raise funds for the charity. We bought along our specially wrapped black taxi photo booth, which was enjoyed by celebrities and many other attendees. The event was a big success and we hope to offer support for future events."
Megabooth also makes parties and celebrations go with a bang by providing branded photo booths, LED light boxes and indoor pop up booths. Having helped at over 1,000 events across the UK and Europe, the company has built up an expertise in creating those extra fun features at weddings, corporate events and birthday parties. It offers all kinds of finishing touches such as personalised number plates, bespoke branding and themed prop boxes.
The company is now preparing for the Christmas party season with brand new themes and backdrops. Options include a snowy forest or a wood-effect background, all complete with ski, Christmas hat, reindeer ear and mistletoe props. It has also extended its range to supplying party vending machines and party karaoke booths – both being great ice-breakers!
Notes to editors:
Megabooth is available for interview. Contact them on 020 3225 5511.