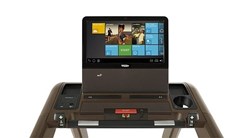 (PRWEB UK) 28 September 2013
A gym in the UK has become the world's first to begin using Technogym's self-powered fitness equipment. It has been said that the fitness equipment is the most economical on the market and uses 30% less electricity than standard machinery. Gymkit UK, a Technogym stockist are huge fans of the new range of fitness equipment as they strive to provide a more economical way to exercise. - News Source
"These machines sound fantastic!" said Gymkit UK employee Lucia. "By installing this equipment, gyms and health clubs will end up saving a great deal in running costs. Gymkit UK would be keen to stock this sort of equipment as well as we aim to help people install home gyms at affordable prices. Self-powered gym equipment would mean that working out wouldn't affect their energy bills as much". Gymkit UK have been selling commercial gym equipment for 12 years and brands such as Technogym are really popular. By sourcing pre-owned gym equipment from gyms and health clubs that are looking to refurbish, Gymkit UK are able to provide high quality equipment at reasonable prices. This is especially significant at a time where people are trying to avoid costly gym memberships and rising fuel prices.
Based in Whittlesey, Cambridgeshire, Gymkit UK sell a wide range of commercial gym equipment including treadmills, cross trainers, rowing machines and exercise bikes. Whilst these are the more popular items, various other fitness paraphernalia is also sold. Furthermore, Gymkit UK is also the sole UK distributer of Teeter inversion products which are designed to combat back issues. This has proven to be very popular line and is one of the ranges that Gymkit UK delivers internationally.
If you are an individual or business looking to purchase fitness equipment, please contact Gymkit UK on 01733 205551 or visit their showroom which is open 8am-6pm Monday-Friday.
Find Us on Google+