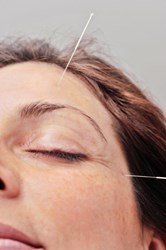 Depression affects more than 350 million people worldwide and about one in six people will have an episode of depression during their lifetime.
London (PRWEB UK) 27 September 2013
Depression–overwhelming sadness and hopelessness–is responsible for a substantial proportion of the global disease burden and is a major cause of suicide. It affects more than 350 million people worldwide and about one in six people will have an episode of depression during their lifetime.
Depression is different from everyday mood fluctuations. For people who are clinically depressed, feelings of severe sadness, anxiety, hopelessness, and worthlessness can last for months and years. Affected individuals lose interest in activities they used to enjoy and sometimes have physical symptoms such as disturbed sleep.1
Many patients with depression are interested in receiving non-drug therapies; however, there is limited evidence to support the use of acupuncture or counselling for depression in a primary care setting. In this pragmatic randomised controlled trial conducted in the North of England, the research team randomised patients with depression to receive 12 weekly sessions of acupuncture plus usual care (302 patients), or 12 weekly sessions of counselling plus usual care (302 patients), or usual care alone (151 patients).
Compared with usual care alone, there was a significant reduction in average depression scores at three months for both the acupuncture and counselling interventions, but there was no significant difference in depression scores between the acupuncture and counselling groups.
This study, conducted by a team led by Dr Hugh MacPherson, of the Department of Health Sciences at York, found that in a primary care setting, combining acupuncture or counselling with usual care had some benefits after three months for patients with recurring depression.
Dr MacPherson says: "Although these findings are encouraging, our study does not identify which aspects of acupuncture and counselling are likely to be most beneficial to patients, nor does it provide information about the effectiveness of acupuncture or counselling, compared with usual care, for patients with mild depression. To our knowledge, our study is the first to rigorously evaluate the clinical and economic impact of acupuncture and counselling for patients in primary care who are representative of those who continue to experience depression in primary care." 2
As well as happiness making you smile, smiling makes you happy Dr Michael Lewis, reader at the school of psychology in Cardiff, is presenting his findings from a small study of 25 people that looked at the concept of facial feedback - where the expressions we make on our faces affect the emotions we feel. Presenting his research at the British Psychological Society's annual conference in Harrogate, Dr. Lewis initially looked at the psychological impact of reducing frown lines on people's foreheads using the Botulinum toxin, a procedure that reduces the strength of eye muscles which are key to smiling. Facial feedback, he said, also had an impact on Botox treatment of crows' feet or laughter lines around the eyes.
Using a one-off questionnaire, Dr Lewis assessed the levels of depression in a small group of people who had received this treatment by referring to clinical diagnosis criteria. He said the effects were significant. Feelings of depression were higher in the group which had treatment for crows' feet and frown lines compared to another group who just had injections for frown lines alone.
He suggested this was because the treatment "reduced the strength of a smile" and made people feel less happy, whereas those treated for frown lines are not able to frown as strongly. This interrupts the feedback they would normally get from their face and they feel less sad. 3
These findings suggest that, compared to usual care alone, alternatives such as acupuncture, reducing frown lines, and counselling, when provided alongside usual care provided significant benefits in primary care to patients with recurring depression.
Because this trial was a pragmatic trial, these findings cannot indicate which aspects are likely to be most or least beneficial, however, these findings suggest that further research into optimal treatment regimens for the treatment of depression is merited as they provide an estimate of the overall effects of these complex interventions, an estimate that is of most interest to patients, practitioners, and health care providers.
References
1) http://dx.doi.org/10.1371/journal.pmed.1001518
2) http://www.sciencedaily.com/releases/2013/09/130924174333.htm
3) http://www.bbc.co.uk/news/health-22106569