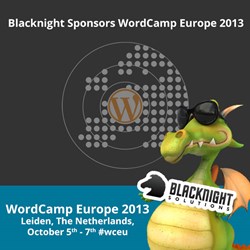 The WordPress community represents the precise sort of innovation we champion
Carlow,Ireland (PRWEB) September 30, 2013
Ireland's leading domain registrar and hosting company is headed for WordCamp Europe 2013, to sponsor the largest WordPress event to date.
WordCamp Europe, which will be held from October 5-7 in Leiden, Netherlands, is the first Europe-wide WordCamp, representing all of the countries that make up the continent. WordCamps are casual, locally organized conferences covering everything related to WordPress. WordPress is a free and open source blogging tool and content management system and is currently the number one content management system on the Internet.
WordCamps are attended by people ranging from those just beginning to blog to professional WordPress developers combine scheduled programming with unconference sessions and other activities. With approximately 900 attendees, it is also the largest WordCamp outside of the United States. It will showcase the best of the WordPress community from across Europe, as well as speakers from the wider international community.
Longtime WordPress supporters, Blacknight will sponsor WordCamp Europe 2013 in the Silver category. CEO of Blacknight Michele Neylon states: "The WordPress community represents the precise sort of innovation we champion. The software is open source and egalitarian and the surrounding community is heavily devoted to helping the platform continually improve. We are very proud to be sponsoring the largest WordPress conference in Europe and look forward to attending."
WordCamp gatherings are non-profit events, with any revenue surplus being fed back into the WordPress Foundations, the charity holding all WordPress trademarks.
"WordCamps have always been central to the distributed WordPress community as a physical space for exchanging ideas and fueling creativity and innovation," explains José Fontainhas of WordPress Portugal. "Our goal for WordCamp Europe is to give the entire European community the opportunity to gather and get to know each other; we may be spread out geographically, but we are unavoidably connected by culture and history. In true European spirit, we hope that this event will give us the opportunity to strengthen those bonds, which can be very valuable in an open source community as special as WordPress. We are extremely proud that Blacknight has chosen to sponsor and attend WordCamp Europe, as they are an important part of the Irish WordPress community and vocal advocates for the open source community, when it comes to Internet governance.
Speakers include Frederick Townes, Founding CTO of Mashable, Matt Mullenweg, co-founder of WordPress, and Sarah Rosso VIP Global Services manager at Automatic
Follow #wceu on Twitter for more information leading up to WordCamp Europe 2013
To learn more about WordCamp Europe 2013, please visit http://2013.europe.wordcamp.org/
For more information on Blacknight products and services please visit http://www.blacknight.com