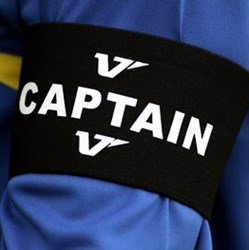 (PRWEB) September 28, 2013
Recently, Custom-Armbands.com, a leading company offering many custom armbands, has launched its new captain armband collection, and all these items are offered at discounted prices, up to 39%. According to the CEO of Custom-Armbands.com, the special offer will end on Oct. 22, 2013.
The company put much emphasis on customer support, application acceptance and design. The team captain is usually identified by the wearing of an armband. The company's products are very popular in the industry, because the company has a strict quality control policy.
"Now, anyone who places an order over $2000 can get a special discount, up to 39% off. Some of our designs are specially designed for iPhone, iPod, Smartphones and more. Lead your team with our custom captain armband, available in a wide range of colors in a lightweight stretch fit so as not to restrict your movements or make you uncomfortable," says the CEO of Custom-Armbands.com.
He adds, "Customers can view the ratings and comments for any captain armband or custom armband below that have been provided previously by our customers. If you have a registered customer at Custom-Armbands.com, you can also post ratings and reviews against any product. What you need to do are just some clicks on the star rating control below."
About Custom-Armbands.com
Custom-Armbands.com is a popular armband manufacturer and supplier, offering all kinds of armbands according to customer requirements. The company has 4,000 square meter modern standard production workshop, equipped with a complete set of production lines. It has become one of the leading suppliers in the plastic industry in China.
More information can be found at: http://www.custom-armbands.com/