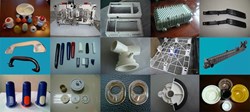 (PRWEB) September 27, 2013
Wuxi Glory Plastics, a leading provider that has a group of elite engineers in plastic injection molding, has recently announced that all its custom plastic molds (http://www.plastics-molding.com/Mold_Development.htm) are offered with great discounts, up to 30%.
As a leading provider of custom plastic molds, Wuxi Glory Plastics has a big customer base: more than 500 customers in over 20 countries. The special offer is launched to make its products available to more clients worldwide. Wuxi Glory Plastics is now in the unique position of being a one-stop shop for injection molding resellers looking for complete products or solutions.
Wuxi Glory Plastics' plastic molds are popular in many industries like the medical container industry, plastic toy industry and more. Recognized as a leading powerful, flexible and internationalized injection molding company, Wuxi Glory Plastics provides online merchants and services with hundreds of models to build and manage a successful online store at no cost. The company considers that it is its responsibility to look after every customer within its ability.
"We are thrilled to offer innovative custom plastic molds to our catalog. With the growing importance of injection molding in the manufacturing industry, now online suppliers can seamlessly integrate their products on their website and offer their customers a greater shopping experience. As a result, customers will immediately benefit from higher engagement rates and reduced sourcing costs," says the CEO of the company.
Wuxi Glory Plastics was established in the year 1995. It is a China based manufacturer which is an industry leader in the China plastic industry. It is known for its high end services and competitive rates. For more information visit their site address at http://www.plastics-molding.com/