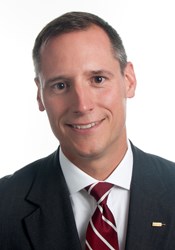 Pittsburgh, PA (PRWEB) September 27, 2013
Industrial Scientific announced today that its president and CEO, Justin McElhattan, will participate as a speaker in a hands-on workshop at the National Safety Council Congress & Expo to be held September 28 – October 4 at McCormick Place in Chicago, IL.
The workshop, entitled "Big Data, Small Planet: Analytics, Sustainability, and Enterprise Risk," will take place on Tuesday, October 1 at 3:30 pm CDT. Participants will learn how "big data" can pay dividends in the EHS and Sustainability fields, and how resulting improvements in operational excellence can be communicated to leadership and help organizations better manage risk.
Justin will be joined by Adam Tucker, director of health, safety, and environment, within the distribution business unit at Cummins, to discuss predictive analytics and help participants gain a deeper theoretical understanding of it. Justin and Adam will also explore practical examples of the use of leading indicators for continuous improvement and enterprise risk management.
The workshop is part of the Congress & Expo's "2013 Executive Edge Track." Pre-registration for the track is recommended. For more information, visit http://congress.nsc.org/nsc2013/public/Content.aspx?ID=1911&sortMenu=104004.
###
About Industrial Scientific Corporation
Industrial Scientific Corporation is the world's leading provider of Gas Detection as a Service. With more than 965 people working in 22 countries, Industrial Scientific is dedicated to eliminating death in the workplace by the end of this century. Achieving this goal requires dedication to delivering highest quality and best customer service in all transactions. Industrial Scientific also focuses on providing analysis of data from equipment use and maintenance to identify problems before they happen. Industrial Scientific has operations based in Pittsburgh (USA), Arras (France), Dortmund (Germany) and Shanghai (China). The company provides technical services to customers from local service centers around the world, and has additional offices in Australia, Bahrain, Brazil, Canada, Czech Republic, India, Indonesia, Italy, Mexico, Netherlands, Poland, Qatar, Saudi Arabia, Singapore, United Arab Emirates and the United Kingdom. Industrial Scientific is the parent company to Oldham (http://www.oldhamgas.com) and Predictive Solutions Corporation (http://www.predictivesolutions.com). For more information, visit http://www.indsci.com.