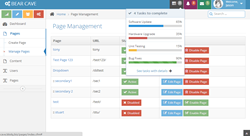 It's going to give small business an affordable management tool.
Atlanta, GA (PRWEB) September 30, 2013
Small business needs more than just a website to compete today; a more comprehensive business management tool is needed. Businesses today demand much more than 2 years ago, and small business needs a solution that it can afford. Black Bear Design, a web development company in Atlanta, GA, is right in the middle of the solution with their new, low cost web solution.
The new web tool sets Black Bear Design well apart from any competitor's solution. One of the key pieces businesses need but are generally too expensive and complex, is a way to manage customers and contacts. With this new, low cost web solution by Black Bear Design, the integration between website contacts and customer relationships will be seamless.
The new system will carry powerhouse features such as a website content management system, management from a mobile device, voice to text typing, automatic capture of website leads, text notifications of website contacts, lead scoring, notes, follow up activities and automated activity reminders emailed to your inbox.
"We are excited to release this new website for small businesses," stated owner Joel Black. "The CMS/CRM integration is going to give small business an affordable management tool. It's all a part of our mission to create remarkable online experiences!"
The build, integration and training time for a small business owner is attractive as well. The average integration from start to finish is 30 days. The system is intuitive and automated, so the learning curve is minimal. More features are in development including reporting, a real estate manager and an ecommerce module. To learn more or sign up for a demo, visit http://www.blackbeardesign.com.
Black Bear Design is a web design company in Atlanta specializing in remarkable web solutions for small business, including web design, internet marketing and SEO. To learn more about Black Bear Design, visit http://www.blackbeardesign.com or call 678-534-1143.