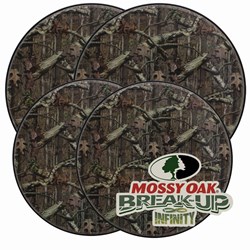 Lima, Ohio (PRWEB) September 27, 2013
Is Camouflage the new black? Range Kleen offers many everyday patterns that compliment any kitchen's décor. Range Kleen, for a limited time and limited quantity, will distribute the Mossy Oak® Break-Up Infinity popular dimensional pattern. Break-Up Infinity is a exclusive pattern through Mossy Oak® which brings the elements of nature to life with its different dimensional design of leaves, limbs, acorns and branches, offering a new look and pattern to the consumers kitchens options. Mossy Oak Break-Up Infinity® Burner Kovers is an official licensed product of Haas Outdoors, Inc., West Point, MS 39773 - Distributed by Range Kleen Mfg., Inc.
Perfect transformation into to the fall season, not only is this pattern unique, its soft nature can appeal to a woman but manly enough for a male inspired kitchen as well.
For more information go to http://www.rangekleen.com or visit your local Wal-Mart retail chain.
About Range Kleen Mfg.
Range Kleen Manufacturing, Inc. is a Lima, OH based company manufacturing household products sold to major retail chains globally and has been taking care of the customer (TCOTC) since 1971. Its product divisions include Original Equipment Manufacturing Quality (OEM) replacement drip pans for ranges & stoves; Non-stick Metal Bakeware; Kitchen Decorative products specializing in exclusive licensed designs; Storage, Organization, insulated food and beverage bottles and household cleaning supplies. Range Kleen Introduced their own line of cookware- Stainless Steel and Enameled Cast Iron as well as pot racks in 2007.
Effective December 21, 2009, Range Kleen Manufacturing was pleased to announce the partnership with Berndes Cookware USA and has taken the lead of all sales, marketing and shipping of Berndes Cookware USA from their International Headquarters in Lima, Ohio.