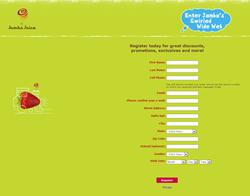 Fort Lauderdale, Florida (PRWEB) September 27, 2013
For the past five years Jamba Juice has partnered with J.M. Field Marketing to continually improve and develop better employee and customer portals. Over 740 Jamba Juice locations now utilize the new technology to better streamline their employee payroll and reimbursement process and improve the customer reward program.
The new Jamba Juice direct deposit system shortened the amount of time and paperwork spent on payroll activities for both Jamba Juice and over 8,400 employees. J.M. Field Marketing wrote and developed software that allowed Jamba Juice employees to register for direct deposit through the portal system in each store. The system was integrated with JP Morgan and Chase to process the information provided for direct deposit and is now in use at over 740 locations.
After the integration of the direct deposit registration portal in Jamba Juice locations, J.M. Field Marketing further simplified the employee services sector of Jamba Juice by building a brand new system to track report and reimburse employee expenses through the register or point of sale (POS) system in each location. The new employee reimbursement system uses personal employee cards that are used to record employee expenditures. The employee card reimbursement system replaced a previous process that involved employees sending receipts into the corporate accounting offices for reimbursement processing. Currently over 74,000 transactions have been simplified to date since integration of the new process.
Following the success of the direct deposit portal and the employee reimbursement cards, Jamba Juice contracted J.M. Field Marketing to help them develop a system for rewarding and tracking loyal customers to build customer brand loyalty. J.M. Field Marketing developed a new customer site called http://www.ilovejamba.com that allows customers to register and receive information on discounts, special offers or coupons. The online site was integrated with a mobile system that enables customers to text a code shown at the register to instantly receive a discount. The mobile system drove traffic to the I Love Jamba website where client information could be provided for a free offer. Registrants were then prompted to invite contacts to receive the same special offer.
For more information about the J.M. Field Marketing and their integration with Jamba Juice please visit http://www.jmfieldmarketing.com/.
About J.M. Field Marketing
J.M. Field Marketing offers a seamless integration of marketing solutions, from design and printed collateral to marketing materials, product fulfillment, web-based inventory management, data collection, inventory systems and call center solutions. The company's mission is to work as a direct extension of its clients' brand – providing the services every business needs to help increase revenue in today's competitive market.
J.M. Field Marketing's clients include the banking industry, travel industry, entertainment industry, security industry and hair care products.