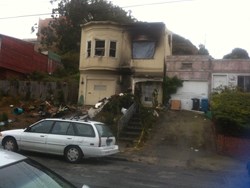 Baltimore, MD (PRWEB) September 28, 2013
Substantial hoarding can put individuals and their family at risk of health problems, injury and at times death. A high percentage of hoarders are 60 – 90 years old and do not consider themselves as hoarders; just simple pack rats or collectors. Hoarding may run in the family and accompany mental disorders which can be associated with obsessive compulsive disorder (OCD).
Hoarders seek help because of pressure from family, friends, complaints from community association, landlord or city to clean up. Hoarders collect all sorts of things such as animals, newspapers, boxes, old mail and broken appliances. Compulsive hoarding can interfere with everyday life, e.g. cooking, cleaning, showering and sleeping.
Fire departments do experience dangerous fires, injuries and death as a result of compulsive hoarding. Abundant content in the home cripples the firefighters fighting fires and they lose time to save lives when hoarding behavior gets in the way.
This disease is dangerous and some hoarders have committed suicide due to the force of giving up items they consider valued possessions. The process of elimination should be a slow one and the hoarder needs help from a variety of professionals to stay clutter free.
Helping someone to declutter takes time and patience, the resources for aiding a hoarder are readily available and professionals are just a call away. ServiceMaster by Singer trained and certified technicians are available to help dispose, clean and rebuild the home of a hoarder. Call us at 410-563-2600.