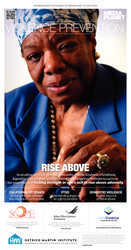 New York, NY (PRWEB) September 30, 2013
Mediaplanet Publishing today released a special report entitled "Violence Prevention." The publication will be distributed as a special 10 page broadsheet section within USA Today, within the markets of New York, Chicago, Los Angeles, Washington D.C, and Baltimore. It will also be distributed at numerous industry events and through various online and social media channels.
The campaign unites leaders in the violence prevention and awareness industry, including the Center for Disease Control, School and College Organization for Prevention Educators, Robert Wood Johnson Foundation, Hetrick-Martin Institute, Blue Shield of California Foundation, California Endowment, Verizon Wireless, Prevention Institute, National Domestic Hotline, Californians for Safety and Justice, Futures at Risk, National Football League, East Palo Alto Police Department, Anti-Violence Project, and Citibank. This campaign discusses the root of violence, its different forms, and what we can do as a nation to end it.
Violence is Preventable
There is no face to violence, but it affects us all.
"Violence at home and in communities can be reduced through efforts that support individuals, strengthen families, and improve the social and economic conditions of neighborhoods. Programs that change the way violence grows and spreads make our neighborhoods safer and healthier places to live, work, and play. Undoubtedly, there are things we can do as a nation that will reduce violence and prevent it from happening in our communities," explains Linda Degutis, DRPH, MSN Director, CDC Injury Center in the publication's foreword.
"Violence is not inevitable. We already know a lot that can be done, and our understanding of what more we can do is constantly growing. We can make a difference."
The Rise Above
This campaign creates a dialogue that confronts violence and discusses what the nation can do to stop the source of it. Violence has no boundaries, and is seen in many forms. Speaking out against violence is the first thing we as a country can do. Dr. Maya Angelou was the victim of many forms of violence as a child, and uses her experience to inspire her work today. In an interview featured within the campaign, Dr. Angelou speaks out against violence by rising above stating, "I stand up for any human being, anywhere: male, female, White, Black, Asian, Spanish-speaking, Gay or Straight. I'm an advocate of fair play and generosity, the kindness of kindness."
By bringing awareness to this public health issue, the campaign encourages Americans to speak bring a voice to this epidemic. Together, we can overcome.
About Mediaplanet:
Mediaplanet is the leading independent publisher of content-marketing campaigns covering a variety of topics and industries. We turn consumer interest into action by providing readers with motivational editorial, pairing it with relevant advertisers, and distributing it within top newspapers and online platforms around the world.
To view this full report, see our digital campaign here: Violence Prevention.
Media contact:
Jourdan Snyder
Business Development Manager, New York
(646) 755-7968
Jourdan(dot)Snyder(at)mediaplanet(dot)com