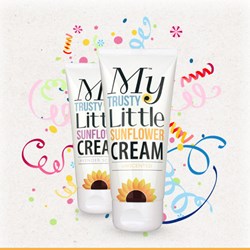 Nice ethos, feel good factor, fresh packaging!
Salisbury, Wiltshire (PRWEB UK) 30 September 2013
• Everyday moisturiser continues to gain momentum

First venture of its kind within the NHS
All profits re-invested into patient care
Sold over 15,000 tubes
Hugely positive response from the public
Back in April My Trusty Little Sunflower Cream, a moisturising cream developed by the NHS Salisbury Foundation Trust, was launched, in the process becoming the first venture of its kind within the NHS. Six months on, the daily moisturiser, which contains pure sunflower oil, has proven a massive success and gained momentum and support across the country by consumers.
My Trusty Little Sunflower Cream is a unique commercial venture that sees all profits raised by the trust re-invested into patient care. April 12th 2013 marked the official launch of the cream and six months on the reaction to the cream has been fantastic. My Trusty has been featured in the national press on numerous occasions as well as in a special anniversary addition of GlossyBox. Well over 15,000 tubes have been purchased in the past 6 months and the comments posted on their social sites as well as by GlossyBox subscribers reflect the warmth with which it has been received. Below is a selection of feedback from these consumers.
"It has a good brand ethos and is an incredibly good moisturiser."
"My skin feels amazing and people have noticed how much better it looks."
"Best. Cream. Ever."
The main sales channel has been the website but other hospitals have picked up on the moisturiser as well as a catalogue of shops in and around Wiltshire.
My Trusty Little Sunflower Cream is sure to go from strength to strength as it continues to raise money for patient care. Find out more about this innovative project and the people it has helped by visiting My Trusty on Facebook, Twitter or http://www.mytrusty.co.uk.
For more information, testimonials, imagery or to arrange an interview please contact:
Nick Holton, Consultant, Proof Digital, [e] nick(at)proofdigital(dot)co.uk [t] 01249 715 990