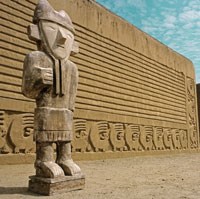 On this trip, we'll be addressing a very real concern for our society—how do we respond to catastrophes? We'll be looking to the past for answers. -- Clay Patton, Crow Canyon Director of Cultural Explorations.
Cortez, CO (PRWEB) September 29, 2013
With drought, floods, and earthquakes frequently making the evening news, scientists are investigating how ancient civilizations responded to catastrophes as a way to learn about how disasters and climate change may affect our world. Next year, travelers can join two scholars in this field on Crow Canyon's Pre-Inca Cultures of Peru: Ancient Cultures and Catastrophes in the Andes to explore the origins of pre-Inca civilization in Peru and how natural catastrophes shaped the rise and fall of ancient kingdoms.
During this Crow Canyon tour, travelers will explore Peru—its ancient cultures and its present-day Andean villages—joining two scholars who specialize in geography, environmental catastrophes, and the archaeology of the country.
Dr. David Keefer from the Climate Change Institute and Dr. Daniel Sandweiss from the University of Maine will lead the group in an investigation of the relationship between the country's extreme geography and pre-Inca cultures including the Moche and Chimú. Travelers will visit monumental sites that define these civilizations, such as the city of Moche and the Chimú city of Chan Chan, addressing key questions: How did ancient peoples adapt to such extreme geographical diversity? How did they respond to the challenges of droughts, floods, and earthquakes?
The tour runs July 26–August 7, 2014. For information or to sign up, call 1-800-422-8975, ext. 136; e-mail travel(at)crowcanyon(dot)org; or visit http://www.crowcanyon.org/travel.
About the Crow Canyon Archaeological Center
The not-for-profit Crow Canyon Archaeological Center conducts long-term, multidisciplinary research into the ancestral Pueblo Indians of the southwestern United States and provides experiential education programs for adults, teens, and children at its campus in Cortez, Colo.
Crow Canyon also offers archaeological and cultural tours throughout the world geared toward people who love to explore other cultures and delve into the mysteries of the human past. With small group sizes and top scholars, Crow Canyon is recognized as a premier provider of educational travel tours.