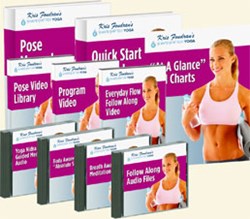 Shapeshifter Yoga is a safe and effective system based on proven techniques.
Los Angeles, California (PRWEB) September 30, 2013
Shapeshifter Yoga is a fitness program that enables people to see results by exercising just minutes each day. Created by Kris Fondran, a former runner and yoga enthusiast with a Master's in Exercise Science, the program reveals how yoga is less strenuous and more effective on the human body than traditional jogging or other exercise. It's also based on the fact yoga lowers cortisol, a stress-related hormone that raises blood sugar and causes the body to store fat.
The yoga program will help improve muscle tone, but also help participants feel less anxious. It also contributes to better sleep and relieves aches and pains, according to studies. Better yet, the routines covered can be accomplished in the user's most convenient time. Each purchase yields unlimited access to an online system with instructional videos, manuals, wall charts, and more. An online dashboard is available to each user no matter where they access the system.
People benefit from Shapeshifter Yoga because it teaches them how to tone specific muscles in the body. Instructions on movement and breathing focus on lowering cortisol, while the program also covers the importance of feeling connected with one's body. A mix of videos and written materials, it offers one-stop guidance to losing fat and reshaping one's body without strenuous exercise.
"Shapeshifter Yoga is a safe and effective system based on proven techniques," says a Go and Get Healthy representative. "The materials included are designed to teach people how to properly lose fat and tone up their bodies, while feeling more happy and relaxed."
The major components of the package include the Shapeshifter Yoga Quick Start Manual, Shapeshifter Yoga Pose Video Library, Shapeshifter Yoga Program Video, Shapeshifter Yoga Everyday Flow Follow Along Video, Shapeshifter Yoga Pose Manual, and Shapeshifter Yoga "At a Glance" Wall Charts. Several free bonuses including audio files, a meditation video, and more are included. The entire package is available for $27.
For more information on Shapeshifter Yoga and what's included in the package, go to Go and Get Healthy Website.
About Go and Get Healthy
Go and Get Healthy is a health product information and review website. Covering topics such as alternative health, wellness, and healthy living, it features posts on the latest programs for weight loss, muscle building, and other common health subjects. This website is divided up into Men's Health, Women's Health, and Weight Loss categories, updated as new health products become available. To learn more, go to Go and Get Healthy Website