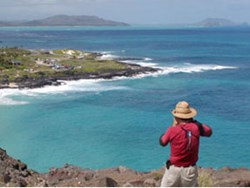 Without Doug we would never have found so many of Hawaii's endemic birds, much less made sense of its profusion of flowers, trees and shrubs. Kudos Doug!- A tour participant, 2012
San Francisco, CA (PRWEB) September 30, 2013
Birdwatchers have long-known that one can escape to the tropics without ever leaving the USA. Biogeographically, Hawaii is a part of Oceania, an exciting Pacific Ocean realm. Exotic in nature but with the comfort and familiarity of home, one can see birds found nowhere else on Earth, those endemic to Hawaii. The evolution of Hawaiian Honeycreepers is a tale as enticing as that of Darwin's Finches in Galapagos. That was the PhD subject of Naturalist Journeys' lead guide in Hawaii, Doug Pratt. This February, they offer a special birding tour to Hawaii, tropical USA.
Each winter, birders across the nation get restless. They feel the same migratory pull as the birds that guide their passion do – and sometime in late September, they feel the urge to follow those colorful bird species that depart each fall in search of safe, warm places to winter. Following them is not always easy. This is when a well-planned birding eco-tour has the greatest appeal. Across the country each September into October, phones in birding tour companies start to ring…
Peg Abbott of Naturalist Journeys, a top birding and wildlife tour company, smiles as she emphasizes that eco-travelers who want a winter break do not have to venture outside the familiarity and comfort of the USA. So what is her answer to the migratory pull? Hawaii; it's the tropics, USA.
Abbott met Doug Pratt, author of numerous guide books about Hawaii, including The Birds of Hawaii and the Tropical Pacific and the Pocket Guide to Hawaii's Trees and Shrubs, when they co-led bird tours and workshops for the National Audubon Society. When starting her eco-tourism company Naturalist Journeys in 1998, Abbott remembered Doug's enthusiasm for Hawaii and how he repeatedly compared it to the Galapagos. Together they launched Hawaii as what is now a popular destination for the company. Catering to birders that want education as well as recreation on a wildlife tour, Abbott relies on Pratt's extensive knowledge of the natural history of the islands to design this year's prize USA getaway, a February Hawaii Birding Tour with a distinctive tropical flair.
Naturalist Journeys, a top nature and birding tour company, is proud to announce a February 13 – 25, 2014 tour to three of Hawaii's Islands – Oahu, Hawaii, and Kauai. A fourth island, Maui, can be visited on the optional extension from February 25 – 27, 2014.
The company owner, Peg Abbott, states, "On our Hawaii birding and nature tour, one quickly finds out that the islands hold more than golden beaches, swaying palm trees and luxury resorts. It is a land rich in history with a great variety of landscapes including snow-covered mountains, luxuriant forests, extensive lava flows and semi-deserts, lovely beaches, cascading waterfalls, pounding surf and calm turquoise waters. And each landscape holds a kaleidoscope of tropical birds."
Find full details of Naturalist Journeys' Hawaii Birding and Nature Tour at http://www.naturalistjourneys.com/jcalendar/jc_HI14.htm.
More about the February 13 – 25, 2014 Hawaii Birding and Nature Tour:
To ensure a high degree of personal attention, this Hawaii Birding tour is limited to 8 participants. The tour begins in Honolulu, Oahu and end in Lihue, Kauai, visiting national parks, botanical gardens, and wildlife refuges to see Hawaii's endemic birds in native habitat on three islands: Oahu, Hawaii and Kauai. An optional Maui extension, which visits Haleakala and features whales and endemic birds, begins at the conclusion of the main tour in Kauai and ends in Maui.
More about Naturalist Journeys:
Naturalist Journeys LLC, a top birding and nature tour company, offers specialty small group tours and travel worldwide, from the western U.S. to Alaska, Hawaii and Florida, Costa Rica, Panama, safaris in Africa and more. Naturalist Journey's guided nature and birding tours feature expert guides with decades of experience in birdwatching, travel photography and other forms of eco-tourism. Naturalist Journeys also offers hiking and adventure travel tours in many national parks and wildlife reserves, including the Galapagos, Antarctica and the Amazon.