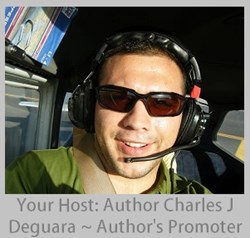 Being an author and entrepreneur, it was high time I did something awesome for other authors and readers. These interviews will do just that! - Charles J Deguara
(PRWEB) September 30, 2013
The author's promoter is as busy as ever. Getting information about the latest and upcoming books. With a strong lineup of author interviews already booked and many more to come. Author's promoter will be sharing information about new and upcoming releases on a regular basis.
Authors already booked range from, the strangest of fiction, to the most practical non-fiction books. Books that will teach readers how to groom their four legged friend or change the way they see life forever.
For the most part interviews are focused on books hitting shelves early in 2014 or recently released in 2013.
Local and international authors form part of the interview line up. From West Virginia, California, Florida, New York, and other states, to Brisbane, Australia; and London, United Kingdom.
World renowned authors, celebrities and diamonds in the rough are scheduled for interviews all the way up to February. Traditionally published as well as a few self-published authors, that have been vetted for quality and had their work professionally edited.
Readers looking for information about upcoming books will not be disappointed. Books ranging from collections of ghost stories on Route 66; to memoirs of interesting people taking life by the horns after losing it all. Practical advice on how to pay less taxes and how to protect children from cyber threats.
All interviews are conveniently categorized by location, genre, type of writing and publisher. Furthermore a specialized search engine will allow readers to search for specific keywords or authors they would love to learn more about.
Readers will be able to leave comments for the authors and author's promoter; enabling further communication after the interviews, with certain authors being invited back to provide readers with more information. Readers will also be able to contact the Author's Promoter - Charles J Deguara and recommend authors they would like to see interviewed, or suggest questions they would like asked in second interviews.
Interviews will be available for the public to view from the 1st of October and interested parties should visit the site and subscribe to receive weekly updates and line ups. Click here to visit the Author's Promoter website.