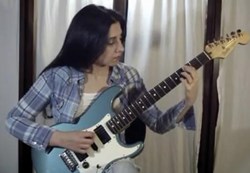 (PRWEB) September 28, 2013
GuitarControl.com announces the release of "Lead Guitar Lesson - Learn How to Play the Altered Scale - Guitar Theory," the latest in their series of free instructional YouTube videos.
The basic Major scales are usually the first thing taught to music students, but the repetitive nature of learning scales often leads students to view them with disdain. Nonetheless, scales are the foundation on which virtually all music rests. In practice there are hundreds of different scales, with each variation offering a unique melodic path. As such, scales are the launch pad for creating complex musical statements in everything from Classical, to Jazz, to Shred.
Without delving too deeply into music theory, altered scales are 7 note progressions, usually derived by raising the tonic of a major scale by a half step. Altered scales have been used by Classical composers and by Jazz musicians alike. In this lesson, Alejandra demonstrates an altered scale, derived from the melodic minor, that migrates from the root note to land on the flat 9th of that note, continues to its sharp 9th, then to its 3rd, its flat 5th, its sharp 5th, and its flat 7th, in turn. It's a wonderful melodic sequence.
On a guitar, scales move around the fretboard, jumping from string to string and from fret to fret, seemingly with a mind of their own. For that reason, the tableture notation for guitar scales usually depicts them as a box pattern that travels from the low E to the high E string and back again. For this example, the available tabs illustrate four variations of the scale. Alejandra's supple playing links each variation, and artfully demonstrates how melodically useful such scales can be.
A rising start in the music world, and an accomplished instructor, Alejandra Mesliuk is a classically trained guitarist from Argentina who is equally comfortable playing Jazz, Rock, and Classical pieces. In addition to her work as a member of the band A Persuasive Reason, Alejandra is working on her first book: Technique and Expression - method of tapping and slap guitar for 6 & 7 strings, and is also preparing her first solo album Los locos de Dios.
Guitar Control.com is a consortium of professional guitarists dedicated to providing the highest quality musical instruction. Producing both web-streamed lessons and comprehensive multi-DVD courses, Guitar Control offers instruction for every style of playing and for all musical genres. Guitar Control's YouTube channel (youtube.com/guitarcontrol) offers 401 (and counting) free video lessons.