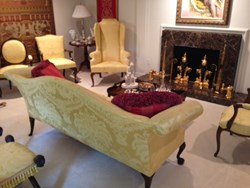 'Estate sales are so crude,' says one AVA client. 'Buyers trudge through your house expecting to pay pennies for very expensive items that they don't fully appreciate.'
Washington, D.C. (PRWEB) September 30, 2013
AVA Limited announces the grand opening of AVA-Online, an online market for the buying and selling of antiques, vintiques and artiques. AVA-Online is a unique store which offers items of retrospective style and design from an extensive private collection and from managed estate assets.
AVA Limited specializes in discreet living-estate sales for clients who have a few assets or entire collections that will not be passed to heirs. Expensive auctions and intrusive estate sales have fallen into disfavor with many clients and their families. "Estate sales are so crude," says one AVA client. "Buyers trudge through your house expecting to pay pennies for very expensive items that they don't fully appreciate."
Many clients have items that have been in the family for generations. Other clients have spent a lifetime lovingly assembling extensive and beautiful collections. Now, they would like to find a few nice homes where these precious belongings will continue to be appropriately appreciated and admired.
Art works from many local DC artists like Alma Thomas, Lila Fisher, Warren Cutler and Joe Andoe are included on the site. Other artists include, Sisson, Bofill, De la Villeon and Vignoles. For Washington Senator baseball fans, there is an autographed 1950's baseball and baseball jacket. And be sure not to miss the large toy sailboat, which was languidly sailed on the tidal basin by a young boy on warm summer Sunday afternoons in the 1920's.
The official opening date for the AVA-Online store is October 9, 2013, but the store is currently open for prospective buyers to peruse the stock and make offers. Buyers can also write reviews and submit comments about an individual item that may be of interest to them. Also, unannounced pre-opening sales are planned, so frequent site visits are highly recommended. Visit AVALimited.com.