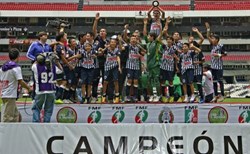 It's exciting to have so many of the biggest pro soccer clubs sending their academy teams to San Antonio for this event and we're looking forward to hosting the largest international tournament in Texas! - tournament director, Scott Spencer
San Antonio, TX (PRWEB) September 30, 2013
The Copa Rayados Internacional runs Wednesday, November 27 through Sunday, December 1st, 2013, and will bring teams from across the region, country, and world to San Antonio Texas. For five days, the STAR soccer complex and Toyota Field Stadium will host approximately 8000 participants and their families daily. The tournament will draw over 40,000 visitors and close to 400 matches will be played.
The Copa Rayados Internacional is finalizing the teams for the tournament that will include boys teams from Under 10 to Under 19. Some of the best pro clubs in Mexico and the USA are sending their teams to San Antonio for this 1st ever international event in San Antonio.
CF Monterrey Rayados, as a hosting partner club, will bring their youth teams along with some of the largest pro soccer clubs in Mexico and latinamerica- Chivas Guadalajara, UNAM Pumas, Santos Laguna, and Correcaminos UAT. Affiliate programs of UANL Tigres, Club America, and CF Pachuca Tuzos join the list of participating clubs from Mexico. Over 40 international teams will be competing including teams from Mexico, El Salvador, Bermuda, Aruba, and Nigeria.
US youth teams will be descending on San Antonio from California to Florida to Texas and between. The youth programs of the MLS professional clubs will send their best teams with MLS representation from Colorado Rapids, FC Dallas, and Houston Dynamo.
Check out the Tournament Promotional Videos HERE.
The Copa Rayados Internacional has the City of San Antonio, the San Antonio Hispanic Chamber of Commerce, and Benchmarc360, inc., as strategic partners setting the stage for a memorable week in San Antonio. Aeromexico, the leader in air travel between Mexico and the USA, is the travel partner for the tournament. Benchmarc360, inc., a leader in corporate events and relations, is a partner to support the business alliances for the tournament. Contact Kathy Bracewell at kbracewell(at)benchmarc360(dot)com or 1-678-291-0011.
Telemundo television and Cox Media Group (radio stations 99.5 KISS FM and X106.7FM classic rock) are both media partners for the tournament to provide multiple promotional platforms and fan engagement.
For more information about the tournament, visit http://www.coparayados.com or contact Scott Spencer 1-210-305-4821 or scottspencer(at)rayados(dot)com.