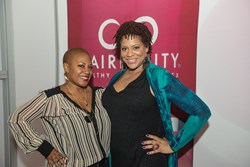 New York, New York (PRWEB) September 30, 2013
Right on the heels of Fashion Week's fashionistas came New York's naturalistas at their own dream destination — the annual LET YOUR HAIR DOWN EXPO! presented by Hairfinity® on September 14th. Hairfinity is the leading natural hair growth vitamin supplement from Brock Beauty, Inc.
It was record attendance as thousands gathered at Manhattan's SIR Stage37 for the city's 'largest natural hair care event'. The celebrity-studded LYHD EXPO, attended by savvy natural hair devotees, stylists and bloggers was all about hair care/style, health and beauty. The education-packed afternoon featured panels, workshops and exhibits —while a fun, intimate after-party celebrated the coveted African-American consumer driving the explosive growth of the natural hair care category.
Event co-hosts were Jenell Stewart, founder of the popular natural hair care site KinkyCurlyCoily Me! and Christina Brown, founder of the fashion and beauty site, LoveBrownSugar. Both are respected pioneers in the natural hair community. L.A celebrity natural hairstyist, Felicia Leatherwood led two livestreaming seminars that demonstrated proper natural hair care techniques plus recommended beauty regimens and her real solutions for hair challenges.
Actress/comedian Kim Coles was the popular guest celebrity at the Hairfinity host exhibit, participating in a meet-and-greet with attendees. Exciting product giveaways and random drawings of Hairfinity Vitamin Supplements and signature tee's happened throughout the EXPO – inside and out!
According to Brock Beauty Inc. President Tymeka Lawrence, she and her Hairfinity team even went outside to give away products and t-shirts to many waiting in line.
Said Tymeka: "We wanted to thank the EXPO attendees for their patience. The event expanded far beyond what we even imagined! Our company was so excited to partner this year with LET YOUR HAIR DOWN EXPO! and be part of supporting our community in such a significant way. There was a lot of love there – all the way around!"
LYHD creator Candace Kelley said: "We are so excited about Hairfinity partnering with us for this event as the product is a leader in its field. The brand has a proven track record for providing women with natural hair care solutions so it is an ideal collaboration."
To see Felicia Leatherwood's tips and demonstration, you can visit Hairfinity's Youtube page and more photos of the EXPO can be seen on Brock Beauty's Flickr page.
About Brock Beauty
Brock Beauty, Inc. is an innovative natural hair and skin care company committed to delivering lasting results and affordable, healthy solutions to enhance and preserve your natural beauty. Founded in 2004, Brock Beauty has created advanced natural formulas for hair and skin care, with a special emphasis on growth and maintenance, that can be found in their popular line of products including: Hairfinity®, Essentious®, Dermera®, Dermera Glow® and Infinite Lash®.
About Hairfinity
Hairfinity® is Brock Beauty's best-selling product, and is a nutritional supplement that contains essential nutrients for healthy hair. This potent and effective formula contains Vitamins A, C, and D, a B-Vitamin Complex, Biotin, MSM, and more. Two capsules are taken per day, and each bottle contains a one-month supply. Hairfinity vitamins can help you achieve longer, stronger, healthier looking hair. Results can be seen in as little as one month.