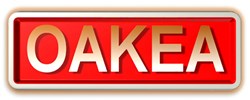 When you call a customer who's had a really bad day and give them the news, the reaction is priceless.
Hereford, Herefordshire (PRWEB UK) 30 September 2013
Oak furniture retailer OAKEA is delighted to announce that it has given away £15,000 worth of vouchers in the last two years in its monthly prize draw. The OAKEA Prize Draw launched in October 2010, is now approaching its two-year anniversary, in that time the company has given away £15,000 worth of oak and pine furniture to its monthly prize winners.
Customers of OAKEA receive a Prize Draw number for each £100 they spend. A winning number is picked electronically at random, and matched up to the winning customer. OAKEA's Victoria Branson commented, "We started the prize draw in 2010 as a bit of fun for both the customers and staff, we draw a winner at the beginning of every month and it's always a pleasure calling someone with the good news."
The company has seen winners from all walks of life across the whole of the UK. The prize draw voucher can be spent on anything on the OAKEA website, or from the showroom and includes sale items. "Our prize winners will often spend their prize on the same range of oak furniture or pine furniture that they have already purchased, but this isn't compulsory – they can choose whatever they want!" continued Victoria. "When you call a customer who's had a really bad day and give them the news, the reaction is priceless. Sometimes people think we're joking, but then they take a look at our past winners on the website and realise that we're deadly serious."
Winners' photographs are included on a special prize draw section of the OAKEA website, with details of what brought them to the company in the first place.
OAKEA designs and imports its own ranges of pine and oak furniture, with four ranges of oak dining and lounge furniture and one pine bedroom range. The company relaunched its online sales channel in early 2013, and also sells from a showroom and warehouse in Hereford. The company currently has several new products in development including a new oak corner cupboard and a new compact telephone table.
For more information about OAKEA, visit their website or call 03336 662 532.