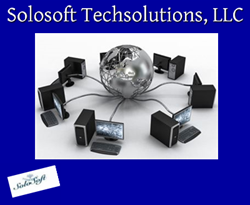 IT Solution Provider
Jacksonville, Fl (PRWEB) September 30, 2013
Solosoft TechSolutions releases new software designed to detect bottlenecks and other issues on a Network that can be performed remotely or on-premises. This new I.T. tool is useful in determining where the issues lie within a Network that is not performing properly. In addition, it can detect if a server email system has used its allocated space and is slowing down the network. The company has named this new software "Net-Edge". "The great advantage of Net-Edge is that it will tremendously decrease downtime on a given Network," adds Bruce Solo (President of SoloSoft TechSolutions).
"SoloSoft TechSolutions focuses on problem solving and making businesses more productive by making sure they have the right technologies in place and that their network systems are secure and operating correctly. With the development of Net-Edge, we have created one more tool to help increase productivity and profitability", adds Solo.
Facts About SoloSoft:
Solosoft TechSolutions is a Network Management and Cloud Services based in Jacksonville, Florida. They offer a diversity of I.T. products and services that allows them to be a full service computer networking firm. However, their core service is Network infrastructure. The company also derives revenue acting as a reseller of products from vendors such as AVG® Technologies, Microsoft® Corporation, Google®, Inc. Their main business goal is to be the Information Technology department of small to medium sized businesses.
Get to know Bruce Solo:
The company's owner, Bruce Solo, has fifteen years of experience in Commercial Finance and Information Technology. He has worked on a state wide project for the Department of Defense as well as migrating the email systems into the computer networks of both United States Senators from the State of Florida.
Closing:
To learn more about SoloSoft TechSolutions or Net-Edge software, follow the link: Jacksonville IT Services or call Mr. Bruce Solo directly on the number listed above.
Press Release submitted by Click Ready Marketing, Atlanta SEO and PPC Company.