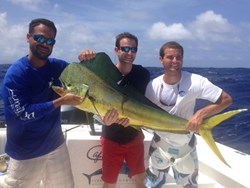 I could tell I was with a true professional, the difference between other fishing charters and Capt. Alvin is you don't fish, you hunt!
St. Thomas (USVI) (PRWEB) September 30, 2013
Capt. Alvin Fishing Charters, located in the beautiful United States Virgin Islands, and led by Caribbean-renown Captain Alvin Turbe, proves there is no substitute for local knowledge when fishing the Caribbean seas. A native born, third generation fisherman, Capt. Alvin's passion for the sea is clear and his enthusiasm contagious. Back to back 1st place finishes at the 2013 USVI Big Game Club's Dolphin Derby and Bastille Day Kingfish tournaments have Capt. Alvin eager to capitalize on an already red-hot bite. With the winter high season fast approaching, three new fishing charter options are sure to reel in the excitement.
Consider a "5-Hour Nighttime Yellowtail and Shark Adventure," the only nighttime fishing charter of its kind in the U.S. Virgin Islands, featuring the thrill of catching multiple yellowtail snapper and the experience of a moonlit fight with Caribbean sharks. For beginner anglers and those travelling with children, "Family & Kid's Inshore Fishing Trips" are tailored specifically to creating lasting memories between parents and their children through fishing. As a father of two young children, Capt. Alvin understands the value and importance of family bonding. As recent guest Stuart Fraser exclaimed, "You did a great job at creating memories that my boy and I will talk about for a long time."
For guests hooked on a fast-paced, high energy fishing adventure, Capt. Alvin is excited to offer the "5-Hour Afternoon Tuna Bite." Running down busting pods of Yellowfin Tuna is one of Capt. Alvin's personal favorites. When the rod bends and real screams, Capt. Alvin's expertise shines through. When it's a struggle to hold up the catch, it's easy to see why Capt. Alvin is the new generation of elite Caribbean captains.
Standard inshore and offshore fishing charters are also available in half-day, 3/4 day and full day increments. From battling leaping blue marlin, speedy wahoo and huge mahi-mahi on offshore charters, to fishing the reefs and wrecks along the St. Thomas coastline for rod-bending kingfish, yellowtail snapper and tarpon on an inshore trip, Capt. Alvin's charters are all about variety – and even more about catching big fish. Aboard a new custom 37' Calypso Deep V – guests fish on a tournament-grade vessel with the latest in electronics, tackle and gear in a hands-on, personalized environment. Recent guest Shannon Mullins says it best, after landing her once in a lifetime catch with Capt. Alvin – a 50lb Mahi-Mahi, "I could tell I was with a true professional, the difference between other fishing charters and Capt. Alvin is you don't fish, you HUNT!!"
Visitors travelling to the U.S. Virgin Islands are also encouraged to check out Capt. Alvin Fishing Charter's "Fish & Stay Villa Packages." These packages combine fishing with lodging at two of the most desirable resort properties on St. Thomas.
For more information, to inquire about charter rates, availability and villa packages, or to find the most up to date fishing reports and catch of the day, please contact Capt. John Clark at 774-955-4122, visit http://www.fishinginstthomas.com/ or follow us on Facebook at https://www.facebook.com/Capt.AlvinFishingCharters.