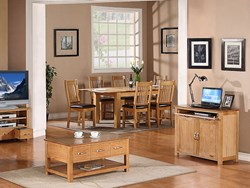 We choose high spec solid wood and it deserved to have the best finish available.
Hereford, Herefordshire (PRWEB UK) 30 September 2013
Oak furniture retailer OAKEA today announced that it will switch to PU lacquer on new products from late 2013. OAKEA designs and imports its own ranges of oak furniture from Vietnam. Vietnam currently uses NC lacquer as standard, it has been used for many years and has the advantage of being very low cost. "NC lacquer may be cheaper, but we can't let cost dictate what is best for our furniture" commented OAKEA's Henrik Pontoppidan "NC lacquer can have an impact on the environment and is not as hardwearing as other types of lacquer available."
OAKEA is now working directly with factory laboratories, working to optimise the finish on all of its oak furniture. PU lacquer also known as Polyurethane is much more durable than the more traditionally used NC lacquer. When exposed to the air it dries to a very hard, clear material – which gives a solid surface, perfect for oak dining tables. Henrik continued "We are taking control and will no longer leave decisions on lacquer to the factories we work with." OAKEA has already moved production to a new factory which focuses on good working practice, health and safety and environmental concerns "the switch to PU lacquer is the next natural step for us."
PU lacquer gives a smooth, desirable finish, and uses less product in the application process. The finish is very important for appearance and consistency of solid oak furniture. Furniture in the home needs to be tough due to everyday wear and tear, a PU lacquer will stand up against a lot of the damage and spills that furniture goes through daily. PU lacquer also seals the wood forming a strong barrier to moisture, if moisture damage occurs the wood can warp or crack over time, this is especially important in a variable climate and a centrally heated home. If you keep an oak sideboard next to a radiator it needs to withstand the dry, hot air. Henrik continued "Solid oak will change over time, it is one of the desirable features of real wood, a PU lacquer is very elastic and will move with the wood, which means no cracked lacquer and furniture will always look as good as new. We choose high spec solid wood and it deserved to have the best finish available!"
OAKEA will begin rolling out PU lacquer from late 2013, and if the trial is successful all oak furniture from 2014.