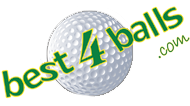 Unlike other suppliers, Best4Balls print 'in house' to ensure that they offer the quickest lead times in the industry.
London (PRWEB UK) 30 September 2013
The website is now mobile and tablet compatible, so it's easier and quicker than ever before to order & personalise golf balls at home, work, or out on the course!
In addition to making the website compatible with all mobile devices, Best4Balls have added a new golf ball customiser for personalised and logo golf balls. This has been designed to make it easier for customers to upload their design details, easily creating bespoke golf balls with their name, family photo or company logo! Additional improvements to the website include a flydown menu & filter, allowing for easier searching of the site. Customers opting to personalise their golf ball purchase can also now benefit from the new Express Printing Service.
The customiser is an online mini design-studio for personalised and logo golf ball orders, allowing B4B's customers to upload logos or photographs onto the website, before editing them & viewing a visual proof of how the image will look when printed. The customiser also enables the buyer to insert and edit text, changing the font, colour and size. The customiser tool is easy to use and has the added feature of a step-by-step video guide showing you how to get the most from the software. Photographs uploaded via the customiser can be cropped. This prevents users from having to use other software, which is a useful tool when placing the order via a tablet or mobile.
Navigation through the site has been improved with the simple addition of a flyover menu. This allows the user to browse by brand, category, price and view the special offers.
A handy filter has been added. This offers the user advanced search options, sorting products by price, ball colour, brand (Titleist, Srixon etc.). It will also let the customer search by the standard of golfer, i.e. the handicap (low, mid), female/male golfer, spin rate and durability.
This was added to help the user choose the correct golf ball for their game, or as an easy present finder.
The new Express Printing Service gives customers the option of Same-Day and 24 hour printing on personalised orders (inkjet printing) and Two-Day printing on logo orders (pad printing).
Unlike other suppliers, Best4Balls print 'in house' to ensure that they offer the quickest lead times in the industry.
About Best4Balls
Best4Balls have the biggest selection of golf balls online in the UK and Europe. Their prices are checked daily to ensure that they offer the best prices and selection online. Most of Best4Balls golf balls are available both logo and personalised for printing company logos, text, photos or images. Personalised logo golf ball prices start from as little £9.99 per dozen. Best4Balls aim is to make it easy to purchase golf balls online!