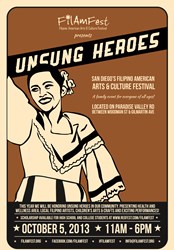 FilAmFest, in its ninth year, has grown to become the largest Filipino American event in San Diego County...
Los Angeles, CA (PRWEB) September 27, 2013
Myx TV announces its partnership with Filipino American Arts & Culture Festival or FilAmFest, a one-day event showcasing the proud history, culture, and talent of the Filipino American community. Every year, FilAmFest brings a fiesta atmosphere to the San Diego community, along with an opportunity to learn and celebrate Filipino-style with food, fair, and entertainment. On its 9th year, FilAmFest celebrates San Diego's Unsung Heroes – difference-makers, dreamers and inspirations in the local community. FilAmFest takes place on Saturday, October 5, 2013 at Paradise Valley Road between Woodman Street and Gilmartin Road in San Diego.
In 2005, FilAmFest began as the Filipino Heritage Festival in Paradise Hills, initiated by then Councilmember Tony Young. As it grew with the support of the larger Filipino American community of San Diego, an endowment from the San Diego Commission for Arts & Culture and the San Diego County Community Enhancement Fund made it an annual destination event. Led by a diverse organizing committee, members created programs, activities, and sights to see for families and visitors of all ages.
This year's theme, Unsung Heroes, allows for the recognition of the contributions of teachers, nurses, military veterans, community leaders, organizations, and others to be honored. Throughout the year, a dedicated social media campaign has shared stories from nominees.
"Myx TV understands that the contributions and experiences of individuals are what shape our community's story," said Tiffany Phung, Marketing Manager for Myx TV. "We are proud to partner with FilAmFest whose work celebrates the Filipino American culture and heritage, and the festival that brings these inspiring stories to light."
Games and entertainment abound! Performers include artists from hip hop to pop, beatboxers, breakdancers and more. Younger attendees can participate in the story-telling on Filipino folklore and experience traditional games like the pabitin, a cultural version of the piñata.
"FilAmFest is excited to have the support and partnership of MYX TV, one of our favorite allies in the promotion of Asian American entertainment. FilAmFest, in its ninth year, has grown to become the largest Filipino American event in San Diego County, and we owe some of that to all of our media partners, including MYX TV," said Dennis-Michael Broussard, FilAmFest Chair.
To learn more about FilAmFest, visit http://www.filamfest.org
##
ABOUT Myx TV®:
Myx TV is the only English language multicultural Asian American entertainment network in the United States. Broadcast in over 12 million households, the network is available in both linear and digital platforms, offering both live and on demand content. Myx TV's award-winning programming includes reality shows, live music performances, game shows, movies, and music videos. To find out more, visit http://www.myx.tv, http://www.facebook.com/myxtv, http://www.twitter.com/myxtv, instagram.com/myxtv, and youtube.com/myxtv.
Myx TV Contact:
Tiffany Phung
Marketing Manager
Tiffany(dot)Phung(at)myx(dot)tv