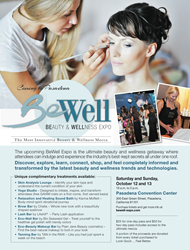 ...consumers are always drawn to the newest and trendiest products so it was imperative for myself and the team to find products that would transcend the future of cosmetics.
Los Angeles, CA (PRWEB) September 30, 2013
The continuously developing nature behind the cosmetic industry has transformed the way consumers open jars to innovation and new technology. With the upcoming BeWell Expo 2013, Founder and CEO, Christele De La Haye, has compiled a list of top tech-infused beauty products, each product will be exhibited at the show from October 12-13th at the Pasadena Convention Center.
"The current craze is revolved around technology advancements in beauty products," says Founder and CEO of BeWell Expo, Christele De La Haye. "From must-have gel nails to the popular mink eyelashes consumers are always drawn to the newest and trendiest products so it was imperative for myself and the team to find products that would transcend the future of cosmetics. We're excited to see these products flourish at our upcoming event."
Top beauty products exhibiting at the show are as follows:
1. Oxygenating Masque from Lumavera: This masques imparts a molecular level exfoliating action that eliminates debris, refreshes skin and encourages new cell turnover.
2. 3 in 1 Cleanser from Turo Skin: Cleansing the face, body and hair it works as a conditioner, shampoo and cleanser for revitalization and moisture.
3. Bio Seaweed Gel Nail Polish: The Unity All-in-One Coulour Gel Polish is free of any formaldeyde, tolune, DPB, BHA and solvent and works to build healthier and stronger nails in an all-natural manner.
4. Restore -Immune Repair from Osmosis: This remarkable product gives any immune system the upgrade needed to combat an aging body and skin.
5. Perfume Gel from Sebastian Signs: The new fragrance is based on a green argan oil based get technology showcasing optimal innovation.
6. Lash Cleanse from LashX: This product is the only product that allows faux eye lash users to clean their lashes safely, removing oil and bacteria, free of oil and glycol.
7. "Get Carded" Deep Sea Peptide from Mindful Minerals: The pioneer of anti-aging products, this formula is comprised from Dead Sea Minerals and the innovative MATRIXYL® synthe'6™ Tri-Peptide which stimulates the synthesis of 6 major structural component molecules.
8. Luna T-Sonic from Foreo: The transdermal sonic pulsations cleansing device gives a deeper, gentler cleansing for a healthy-looking glow. The silicone surface and silicone bristles will help improve the absorption of the users favorite products.
9. Heated Eye Lash Curler from Chella: The safe, chic and futuristic product delivers maximum curl where you want it without damaging your eyelashes
10. Strawberry Rhubarb Hyaluronic Serum from Eminence: The serum acts to rehydrate and replenish by gently exfoliating and removing impurities to brighten skin and shrink pores. The inclusion of rhubarb will fight the look of wrinkles.
Tickets start at $25 for a single day ticket and $50 for the weekend pass. To purchase and register for class visit BeWell-Expo.com.
About the BeWell Expo
With over 20 years of experience in the skin care and spa trade industry BeWell Expo has created an active environment to engage consumers with exclusive insight into the beauty and wellness industry. By bridging the gap between the elusive industry secrets to consumers, the prestigious show educates both men and women on the latest trends and secrets individualized for each attendee. CEO and Founder, Christele De La Haye, has handpicked and thoroughly researched each exhibitor for the utmost and luxurious experience with the balance of optimized beauty and wellness in mind. Slated as a "prestigious mecca" BeWell Expo will be held at the Pasadena Convention Center, October 12 and 13, 2013. BeWell-Expo.com.