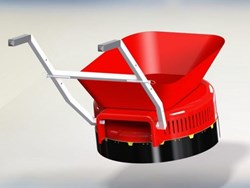 Kickstarter is a great way to get people excited about Wingman™.
Irving, TX (PRWEB) September 28, 2013
The Wingman™ hovercraft hauler is an exciting new consumer product that will lift and carry hundreds of pounds riding on a cushion of pressurized air. This personal hovercraft hauler can be used for DIY projects, gardening, construction, picnicking, outdoor sports, sporting events, recreation, beach activities, and many more. Wingman™ can perform all the work currently done by wheelbarrows, garden carts, wagons or dollies, but it is much easier and safer to use, and can be stored in a garage taking up much less space.
The highly anticipated Wingman™ is the brain-child of award-winning inventor Mark Welker of Dallas, the CEO of MarkWel Technology, Inc. Welker is excited about the possibilities of funding the final prototype through Kickstarter.com. "Kickstarter is a great way to get people excited about Wingman™ and to give as many people as possible an opportunity to get involved with us in the final stages of development," said Welker. "We believe that Kickstarter backers have great ideas too and we plan to set up a unique community website designed exclusively for them to help us as we go to market."
About MarkWel Technology, Inc.
MarkWel Technology, Inc. was established in 2012 by Mark Welker for the purpose of bringing several of Mark's patented and patent-pending inventions to market. Over the last twelve months, Mark has assembled an impressive management and design team with extensive experience in many fields. Information about the company and the team can be found at http://www.markwel.com.