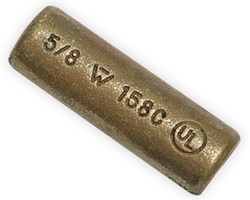 Galvan threadless couplings cure separation anxiety.
Harrisburg, NC (PRWEB) September 30, 2013
Now available for immediate delivery, Galvan Industries' threadless couplings for copper-coated ground rods are designed, built and guaranteed to securely connect any manufacturers' rods that are made to the design parameters of the ANSI Approved /NEMA GR-1 ground rod specification.
For example, the specified diameter of a 5/8" nominal copper coated ground rod can vary within the range of .555 and .565 inches, according to NEMA GR-1. The specification requires that a coupling used with this rod must be able to resist a pullout force of no less than 1500 pounds throughout the specified diameter range. Galvan threadless couplings pass this test.
Galvan offers a complete line of threadless ground rod couplings for copper-coated and galvanized ground rods. Couplings for copper-coated rods are available in sizes ½", 5/8" and ¾" and made from bronze alloy. Couplings for galvanized rods are made of coated steel and are available in sizes 5/8" and ¾".
Galvan's threadless couplings work by creating a compression joint without splitting or cracking when the rods are driven. Once connected, the force required to pull the rods apart from this joint is more than 1500 pounds so joined rods can be driven without worry over possible future separation.
Galvan couplings are marked with the manufacturers symbol, part number, trade size and the identifying mark of the listing agency to ensure traceability as required by RUS.
About Galvan
In addition to threadless couplings, Galvan Industries, Inc. is also a major manufacturer of hot dip galvanized, copper-plated, stainless steel and solid copper ground rods, as well as clamps, connectors and other grounding accessories. Galvan products are stocked in strategic sites around the country to assure fast deliveries.
Galvan Industries has been a trusted supplier to the electrical, electronic and utility industries for more than five decades. Galvan electrical products are used in residential, commercial and industrial applications, including construction, cable TV, lightning protection, power transmission and telecommunications. They are available from leading electrical wholesalers and distributors throughout the United States.
For more information, call 1-800-277-5678; fax 704-455-5215; email sales(at)galvanelectrical(dot)com or visit Galvan on the Web at http://www.galvanelectrical.com.