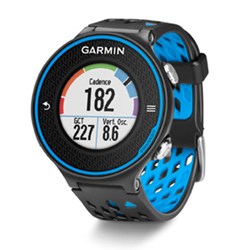 The Forerunner 620 also shaved a full ounce of weight off dropping to 1.6 ounces from 2.6 ounces, so it is thinner and lighter is always better
Bozeman, MT (PRWEB) September 28, 2013
Garmin Forerunner 620 has been voted as the GPS running watch innovation of the year by the folks at Heart Rate Watch Company.
"It is staggering the number of improvements, the weight reduction, faster satellite acquisition and more," says Rusty Squire, President of the Heart Rate Watch Company. He adds, "This went well beyond the standard level of features improvement you see in a normal upgrade and added features that we've never seen before."
FEATURES
"The touch screen resolution is now 180px by 180px and in full color which is far sharper than the 610, which was its predecessor," says Squire. He adds, "The Forerunner 620 also shaved a full ounce of weight off dropping to 1.6 ounces from 2.6 ounces, so it is thinner and lighter is always better."
FASTER SATELLITE ACQUISITION
"Garmin 610 acquires satellites super fast, in about 15 seconds or less, in less than half the time of its predecessor," says Squire.
RUN OSCILLATION and CADENCE
Garmin Forerunner 620 offers run oscillation which helps measure the amount of vertical, as opposed to forward, energy which helps you improve your running efficiency," says Squire. He adds, "No other watch that we know of offers this feature."
The heart rate version of the Forerunner 620 can measure run cadence without a foot pod thanks to a sensor built in to the chest strap. "Getting rid of the foot pod is nice and eliminates another accessory to think about," says Squire.
CONNECTIVITY
Garmin 620 has both Wifi and Bluetooth Smart built into the watch for convenient data transfer and real-time data. "This means you can transfer data instantly to your PC with no wires or even in real-time through your Bluetooth Smart enabled phone right into Garmin Connect or to Facebook."
GREATER COMFORT
Garmin also used hinged bands with the new 620 allowing it to comfortably fit a wide variety of wrists. "This makes a huge difference along with the weight reductions, especially for women," says Squire.
"For all the reasons outlined we really feel this is the most innovative new GPS watch for 2013", says Squire. He adds, "If you would like to talk to a rela expert then simply call us at 866-586-7129."