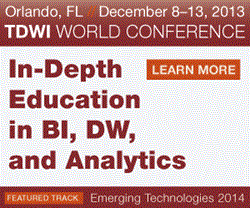 Despite the hubbub, big data, advanced analytics, and cloud computing are only part of the story. The TDWI World Conference in Orlando will show attendees the rest.
(PRWEB) September 30, 2013
WHO:
TDWI (The Data Warehousing Institute™), the premier provider of in-depth, high-quality education and research in the business intelligence (BI) and data warehousing (DW) industry, has announced the featured track for its 2013 TDWI World Conference in Orlando, Florida: "Emerging Technologies 2014."
WHAT:
The Orlando World Conference will offer nearly 50 in-depth, vendor-neutral BI and DW courses. From "what's cool" to "what's next," attendees will be offered 17 courses specifically related to the latest BI innovations and technologies, including social analytics, high-performance data warehouses, evolving information architectures, data analytics, and new database technologies.
Every year, BI professionals are confronted with dazzling new technologies and approaches to gather more data and extract more insight for business advantage. From big data and agile development to cloud computing and text analytics, mobile BI, Hadoop/MapReduce, to a variety of analytics—predictive, prescriptive, data science, and geospatial—it's easy to see how BI and data warehousing professionals can become overwhelmed by the current plethora of options.
The TDWI World Conference in Orlando offers attendees the chance to survey the current landscape of emerging BI/DW technologies and learn how to benefit their businesses. Despite the hubbub, big data, advanced analytics, and cloud computing are only part of the story. The TDWI World Conference in Orlando will show attendees the rest.
In the opening keynote, Mark Madsen and Marc Demarest (in their respective roles as CIO and industry shill) take a humorous and pointed look at some of the trends, buzzwords, and big ideas that fill our lives (and our inboxes) and keep us up at night. Decision management, memory-resident DBMS, cloud BI, predictive analytics—no shiny object will escape their notice. Their Shiny Objects Show promises to be irreverent, controversial, and clarifying.
On Thursday, December 12, TDWI Research's Fern Halper and Sixth Sense Advisors' CEO Krish Krishnan will discuss the brand new TDWI Big Data Maturity Model and Assessment, an interactive online assessment tool that helps organizations understand how their big data deployments compare to others in providing best-in-class insight and support. The model helps enterprises understand where they are, where they've been, and where they still need to go (and the best practices to help them get there) with their big data deployments.
Conference courses will be presented by leading BI and DW experts and practitioners. Other conference sessions will offer attendees new to the technology an overview of BI essentials, from architectures and data modeling to data governance and quality. Experienced BI and DW practitioners can attend sessions that offer in-depth looks at business analytics, data analysis and design, data asset management, and leadership and management.
The TDWI World Conference in Orlando also offers vendor exhibitions featuring demonstrations of the latest BI/DW solutions from leading companies in the field, opportunities to prepare for and complete BI/DW certification (CBIP) exams, and time for professional development and networking.
WHEN:
December 8–13, 2013
WHERE:
Renaissance Orlando Hotel at SeaWorld
6677 Sea Harbor Drive
Orlando, FL 32821
REGISTER:
Event Website: http://tdwi.org/OR2013
Conference attendees who register by October 18 are eligible for a special discount of up to $600.
FOR THE MEDIA:
Members of the media are invited to cover the event. Interviews with TDWI spokespeople are available upon request.
Media passes are reserved for press representatives and analysts who can verify that their publication or organization regularly covers data warehousing, business intelligence, or related topics. All media are required to provide samples of previous reports covering these topics. Please note: media passes will not be issued to publishers, sales, marketing, advertising, public relations, or technical support staff from any organization.
To apply for a media pass, please send an email to bwoodbridge(at)tdwi(dot)org with the following information: Name, title, company, e-mail address, telephone number, dates of attendance, publication/website name (including website URL, link to 3 articles/blogs/podcasts published in the last 3 months that cover business intelligence, data warehousing, or related topics).
###
For more information on the 2013 TDWI World Conference in Orlando, please contact:
Brenda Woodbridge
TDWI Event Director
Phone: 425.277.9132
bwoodbridge(at)tdwi(dot)org