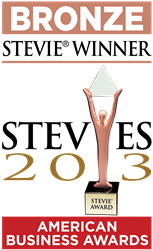 Congratulations to both Manhattan Associates and AutoNation for believing in performance change.
Minneapolis, MN (PRWEB) September 30, 2013
Allen Interactions, an innovative custom e-learning provider, was presented with two Bronze Stevie® Awards in the Best Training Site category at The 11th Annual American Business Awards Ceremony held in San Francisco.
About the winning e-learning courses
AutoNation, America's largest automotive dealer, with over 20,000 Sales Associates, needed a more effective and efficient way to train advanced sales skills – a method that was scalable, repeatable, and minimized the amount of time spent away from the sales floor. Part of the blended solution was the award-winning hour-long e-learning course to build confidence in sales associates, preparing them to present a Sales Menu to customer and to discuss their needs with the manager at the sales desk. To learn more about the partnership, solution, and impressive results download the AutoNation Case Study here.
Manhattan Associates, a best-in-class global solutions provider for supply chain leaders, hoped to use an interactive approach to help create an understanding of the importance of Supply Chain Optimization to the employees who worked behind the scenes to make it happen. In this e-learning course, participants are taken on a journey through a modern day, optimized supply chain – the backbone of retail operations across the globe.
"We are honored to receive two Stevie Awards, as it is a fantastic recognition of our constant commitment to creating meaningful, memorable, and motivational e-learning," stated Michael W. Allen, chairman and CEO of Allen Interactions. "Congratulations to both Manhattan Associates and AutoNation for believing in performance change."
Stevie Award winners were selected by more than 320 executives nationwide who participated in the judging process. More than 3,200 nominations from organizations of all sizes and in virtually every industry were submitted this year for consideration in a wide range of categories, including Most Innovative Company of the Year, Management Team of the Year, Best New Product or Service of the Year, Corporate Social Responsibility Program of the Year, and Executive of the Year, among others.
"So many remarkable stories of success and innovation were told in the nominations submitted to this year's American Business Awards," said Michael Gallagher, president and founder of the Stevie Awards. "We congratulate all of this year's Stevie Award winners, and thank them for the inspiration provided by their achievements."
About Allen Interactions
Allen Interactions creates powerful custom learning experiences that help achieve organizational business goals by improving performance one interaction at a time. With 20 years of deep experience and expertise in instructional design, technology, creativity, process, and project management, Allen Interactions consistently achieves positive business impact. In addition to its services offerings Allen Interactions has a new cloud-based system for authoring and publishing called ZebraZapps, which allows developers and non-programmers to create powerful interactive media applications, as well as share, publish, and sell objects or entire applications. More information about Allen Interactions can be found at http://www.alleninteractions.com.
About the Stevie Awards
Stevie Awards are conferred in four programs: The American Business Awards, The International Business Awards, the Stevie Awards for Women in Business, and the Stevie Awards for Sales & Customer Service. A fifth program, the Asia-Pacific Stevie Awards, will debut this month. Honoring organizations of all types and sizes and the people behind them, the Stevies recognize outstanding performances in the workplace worldwide. Learn more about the Stevie Awards at http://www.StevieAwards.com.