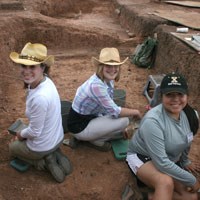 Crow Canyon's field school is a rare opportunity for students to do archaeology at a pre-college level--Crow Canyon Director of Education Kathy Stemmler.
(PRWEB) September 29, 2013
The Crow Canyon Archaeological Center announced this week dates for its three-week 2014 High School Field School: June 29–July 19, 2014. Crow Canyon, a not-for-profit research and education organization located in Cortez, Colo., offers the field school each summer for students seeking to experience archaeology firsthand and explore the spectacular Four Corners area of the Southwest.
"Crow Canyon's field school is a rare opportunity for students to do archaeology at a pre-college level," said Crow Canyon Director of Education Kathy Stemmler. "Archaeology is a hub that connects to so many other fields. Our field school is a chance to really investigate archaeology—but a student's experience here can lead to many different career choices."
Crow Canyon is currently excavating as part of the groundbreaking Basketmaker Communities Project, a multiyear (2011–2014) study focusing on a pivotal, but underinvestigated and poorly understood, time in Pueblo history: the Basketmaker III period, A.D. 500–750. High School Field School students will take a hands-on role in the project, joining the Center's research team in the field to help tell the story of the Pueblo Indians who lived in the Mesa Verde region for more than 2,000 years.
In addition to excavation, students will analyze ancient artifacts in Crow Canyon's research laboratory, learn about scientific methods for dating archaeological sites, and enter data into Crow Canyon's research database. They will also try out ancient technologies, such as throwing wooden spears with an atlatl, weaving on a loom, and making pottery. A highlight of the program is a full-day guided tour of nearby Mesa Verde National Park, world-famous for its ancient cliff dwellings.
Students also enjoy typical summer camp experiences such as weekend hiking, camping, and rafting trips. And, most of all, they spend three weeks making lasting friendships with others who share similar interests.
To sign up or obtain more information, call 970-564-4346 (toll-free 800-422-8975, ext. 146) or e-mail summercamp(at)crowcanyon(dot)org. Students may also sign up online. High school or college credit and scholarships are available. The application and scholarship deadline is April 18, 2014.
About the Crow Canyon Archaeological Center
The not-for-profit Crow Canyon Archaeological Center, located near Cortez, Colo., conducts long-term, multidisciplinary research into the ancestral Pueblo Indians of the southwestern United States and provides experiential education programs for adults, teens, and children. The Center also collaborates with American Indians on a wide variety of initiatives of mutual interest, including research projects, education curricula, and language- and cultural-preservation programs.