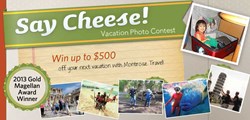 "The 'Say Cheese' campaign was a fun way to connect with our community."
Montrose, CA (PRWEB) September 29, 2013
Travel Weekly announced the winners of The 2013 Magellan Awards, and for the second year in a row, Montrose Travel was honored with the Gold Award for Best Marketing Campaign. With entries from across the U.S. and around the world, the Magellan Award winners represent the best in the travel industry and salute the outstanding travel professionals behind it all.
The Magellan Awards is the premier awards program honoring a broad range of industry segments including Hotels and Resorts, Travel Destinations, Cruise Lines, Online Travel Services, Airlines and Airports, Travel Agents and Agencies, Tour Operators and Car Rental Companies. In the business of travel, the Magellan is the award to win.
The marketing campaign entered for the award was Montrose Travel's "Say Cheese" campaign, which debuted in January of this year. Montrose Travel focused on the priceless memories created on vacation, and the pictures taken to capture and treasure those memories. The campaign not only advertised exclusive travel deals for their customers, but also featured personal vacation photos from the Travel Professionals at Montrose Travel. Rounding out the campaign was a Facebook contest where Montrose Travel invited their customers to share their own stories through their vacation pictures and submit their best vacation photo for a chance to win $500 off their next vacation.
The campaign not only allowed Montrose to expand their reach to gain new prospective clients, but they were able to connect on a deeper, more personal level with their current, loyal customers.
"Once again, the bar was raised by Magellan entrants," said Arnie Weissmann, editor in chief of Travel Weekly. "The creativity that travel industry marketers and designers display to inspire travel and enhance the travel experience continues to impress our expert judges and readers. The winners are not just the most talented and creative people in the travel industry – they are among the most creative and talented of any industry."
When Joe McClure, President of Montrose Travel found out they had won for the second year in a row, he emailed the entire company and congratulated the marketing team on a job well done. "The 'Say Cheese' campaign was a fun way to connect with our community and a success on many levels. Probably the most important aspect of the campaign is that it shows who we are – a team of real people, not some impersonal travel website, and that we're here to share our travel experiences to help our customers book the perfect vacation." McClure continued, "I am incredibly proud of our marketing team, their creativity and our win!"
The Magellan Awards are judged and overseen by a one-of-a-kind panel of top travel professionals representing the best names and most accomplished leaders from the industry.
ABOUT MONTROSE TRAVEL
Celebrating 56 years in business, Montrose Travel, a family-owned travel management company, has grown from 14 employees in 1990 to more than 190 today and is now firmly established as a Top 50 Travel Management Company and a Top 5 Host Agency nationwide at $180+ million in sales. Montrose Travel strives to provide the highest quality services and most complete vacation, corporate travel, loyalty and group travel management solutions for its customers and home-based travel agents. Montrose Travel "will be here tomorrow to back up our promises of today!" Montrose Travel can be reached at 1-800-MONTROSE (666-8767) or by visiting http://www.montrosetravel.com. Visit Montrose Travel's Corporate Division at http://www.montrosecorporatetravel.com or call 1-800-766-4687. Home-based independent travel professionals may visit http://www.MTravel.com, email epeters(at)montrosetravel(dot)com, or call 1-800-870-5799. CST#1018299-10
About Travel Weekly (http://www.travelweekly.com)
Online or in print, Travel Weekly brings depth, context and perspective to events in the industry. By providing news, research, opinion, analysis and information found nowhere else, Travel Weekly maintains its position as the most important and influential source of news, data and commentary to the travel industry.
In addition to a weekly print publication, TravelWeekly.com is updated multiple times every day and is the most-visited industry website. (It was recently honored as one of the "10 Greatest Business Media Websites" by Media Business magazine). Additionally, TravelWeekly.com's Hotel Search – powered by HTI – includes more than 130,000 hotel listings and the Cruise Search features over 18,000 cruise sailings.
###