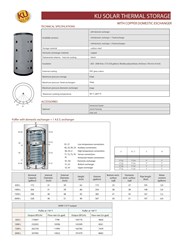 (PRWEB) September 29, 2013
Solar Power International will be held at McCormick Place in Chicago this year from October 21st -24th. This year Solar Usage Now will be exhibiting the KU SKY PRO series collector.
Solar Power International is the largest solar show in America, with more than 700 companies represented. Solar Usage now will be among the exhibitors at the conference, with a display at booth 4338. Solar Usage Now invites attendees to stop by their booth to learn more about the company's KU SKY PRO series collector.
Solar Usage Now is also a distributor of other evacuated tube solar collectors and solar thermal products. Solar Usage Now offers total design services and large-scale project management available worldwide. For more information about the SUN Equinox heating system please visit http://www.solarusagenow.com. Be sure to follow Solar Usage Now on twitter @solarusagenow. Can't wait to see you at the show.