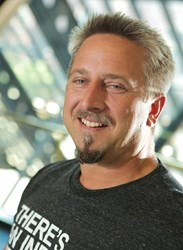 "I am glad marketing changes so fast that I can remain interesting and informative, year after year." -Anchor Communications CEO TJ Kirgin
Saint Louis, MO (PRWEB) September 30, 2013
TJ Kirgin, CEO of Anchor Communications, is speaking at Vistage All-City St. Louis 2013 on October 9th. He is a marketing consultant with over 20 years experience and over 30 million dollars in media buying experience. However, after being enlightened at Inbound 2013 in Boston, he has recently ditched all outbound marketing efforts and has jumped on the inbound marketing bandwagon. His presentation will cover what inbound marketing is, why it's important, and how companies can implement it into their own marketing strategies.
TJ is speaking for two sessions, one at 1PM and the second at 2PM. "This is the 3rd year in a row I have hosted a marketing breakout session at the All-City Event," he said. "I am glad marketing changes so fast that I can remain interesting and informative, year after year." His class is titled "Smarketing | Don't Be Left B2Behind". He will be focusing on companies that are B2B. As mentioned earlier, TJ is fresh back from Inbound 2013 in Boston and brought back intelligence and fresh data in regards to the dramatic shift in the buying process that has changed the way B2B companies need to market and sell.
Vistage is a group of more than 17,000 members from 15 countries of mostly CEOs and business owners. They meet monthly with peers in their local area to discuss growing their businesses and how to take them to the next level.
With over 20 years of experience, Anchor Communications has transformed from a media buying and planning company into an inbound marketing focused agency. Located on Historic Main Street in downtown Saint Charles, MO, Anchor Communications strives to deliver the very best in inbound marketing by generating more visitors to a company's site, converting those visitors into leads, nurturing those leads into customers, and then ultimately delighting them so they become lifelong advocates of the brand or company. Anchor Communications recognizes that there has been a dramatic shift in the consumer's purchasing process and understands the concepts and methodologies required to meet the demands of this new age of consumerism.