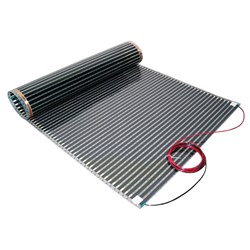 No mixing of cement or spreading adhesive. All that's needed is to roll out the three layers of the heated floors system.
Highland Park, IL (PRWEB) September 30, 2013
FloorHeat Systems' new heated floors product, brand name InfraFloor Film, is specifically designed for ease of installation by do-it-yourselfers and professionals. What makes it so easy is that it can be installed without cement, thin-set mortar or adhesive of any kind. Now, it couldn't be easier to heat the kitchen, family room, addition, basement or any other room in the home or office.
No mixing of cement or spreading adhesive. All that's needed is to roll out the three layers of the heated floors system: 1) insulation underlayment, 2) InfraFloor electric radiant floor heating film and 3) vapor barrier; then install a floating laminate or wood floor per the normal instructions.
InfraFloor Film comes in 36-inch wide rolls and lengths up to thirty feet to easily cover large rooms quickly and easily. Narrower 18-inch wide rolls are also available for fitting tight spaces. The electric radiant floor heating pattern is uniform and even across the surface of InfraFloor Film so there are no hot or cold spots in the warm floor.
Another benefit of using InfraFloor Film for heated floors is that it minimizes raising the floor height so doors and jams will not need trimming. InfraFloor Film is about as thick as a magazine cover and the insulation underlayment ranges from 1/8" to 3/16" depending on material. FloorHeat Systems offers two underlayment choices: a compressed fiber with an R-value of 4 per inch and a synthetic cork with R-value of 8 per inch. Besides working with these two premium underlayments, InfraFloor Film is compatible with virtually any flooring underlayment.
Although installing heated floors couldn't be easier, a qualified electrician is recommended for installing the electric radiant floor heating thermostat. A programmable thermostat is also recommended for maximizing energy savings. FloorHeat Systems offers a wide selection of highest quality floor heating thermostats and installation accessories for floor heating installation accessories and tools] from well-known manufacturers so that everything required for a complete electric radiant floor heating system can be purchased simply and easily from InfraFloor's online store.
FloorHeat Systems, Inc. is a USA supplier of UL compliant, energy saving, affordable, electric radiant floor heating systems. It provides free shipping on most orders, fast-response planning expertise, installation and technical support for heated floor systems. A 100%/90-day return policy with no restocking fees and speedy processing of returns rounds out FloorHeat System's "customer–first" policy. To learn more, visit: http://www.infrafloor.com.