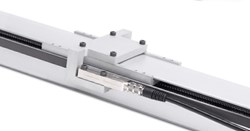 Direct load monitoring offers several economic and performance benefits. For starters, the indicated load position is not affected by mechanical factors such as backlash, dynamic compression or tension, and drive wear and tear.
Florence, KY (PRWEB) September 30, 2013
In Balluff's new White Paper, author Henry Menke explains the advantages of using direct load monitoring with linear encoders as secondary feedback instead of typical rotary encoder-based positioning systems.
A brief excerpt from this whitepaper:
In the field of automation, a motion control system consists of mechanical hardware coupled to a prime mover, the operation of which is governed by a computerized controller that compares the command position to the indicated load position. Typically, the indicated load position comes from a rotary shaft encoder or linear position encoder. In response to a difference between the command position and indicated load position, the controller generates a drive signal that is fed to the device that regulates the speed and direction of the prime mover — for example, an electronic amplifier driving a servomotor.
This process of reading position, comparing it to the command position, and then driving the prime mover until it is positioned correctly is called closed-loop motion control. Besides position, other controlled variables such as velocity (the mathematical derivative of position) or force can also be measured. With respect to position and velocity, the accuracy of the controlled motion – from the perspective of the load — is highly dependent upon how closely the indicated load position matches actual, real-world load position. The indicated position is always a facsimile of the actual load position. Due to various error-inducing factors, the indicated load position never exactly matches the actual load position. The nature of the induced position errors depends on the architecture of the position encoder and how it interacts with mechanical drive hardware...
Read more in the complete White Paper. See the attached PDF or download it on Balluff's website.
See linear encoder product solutions on Balluff's website.