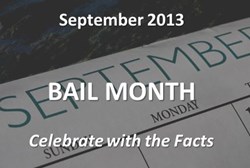 If the public sector pretrial release community wants to have a Bail Month, then we will have a Bail Month.
Calabasas, California (PRWEB) September 30, 2013
If you haven't heard yet then you will be happy to know that the month of September has been officially designated as "Bail Month." The most interesting part about this designation is that the bail bond industry is not responsible for the declaration. In fact, the announcement was made by the Pretrial Justice Institute (PJI), a government funded criminal justice social welfare program. According to the announcement which came out at the beginning of the month, PJI along with its partner the Justice Policy Institute (JPI) plan on redistributing three publications that they disseminated last year during the same time period. It was these three publications that lead to the Bail Bond Industry responding with a publication of their own, The War on Public Safety.
So far this month, there has been very little information coming out from PJI and their partner the Justice Policy Institute (JPI) in regards to Bail Month. While the public waits for them to follow up their initial announcement with a new whitepaper or article that identifies and explains the benefits of public sector pretrial release programs or some type of research that shows that they are an effective form of pretrial release, the commercial bail industry is celebrating Bail Month in full force. In particular, the nation's first and only nationally branded network of bail agents, ExpertBail, is taking the opportunity provided by Bail Month, not to criticize the commercial bail industry, but rather to shine a light on its many accomplishments.
"If the public sector pretrial community wants to have a Bail Month, than we will have a Bail Month," says Eric Granof, Vice President of Corporate Communications and Managing Director of the ExpertBail Network. "Every piece of research ever done on the subject of pretrial release, has consistently and overwhelmingly proven that commercial bail is the most effective form of pretrial release. We have no problem sharing and celebrating Bail Month with those facts." And that is what ExpertBail has done so far this month. Everyday during the month of September ExpertBail has posted a new Bail Month Fact on the ExpertBail website and then shared it on social media. All of these bail facts have been pulled from decades of research, articles, whitepapers and surveys. Additionally, each fact clearly and unequivocally proves one thing…the effectiveness of the commercial bail industry.
When asked what research studies and materials PJI and JPI might release during Bail Month that show the effectiveness of unsecured release, Mr. Granof simply stated, "I have no idea, and to be honest, I have never hear of one that exists. If they did have one my guess would be that they would have called September Pretrial Service Agencies Month instead of Bail Month."Click here if you would like to see the full collection of Bail Month Facts.
About ExpertBail
ExpertBail is the bail bond industry's first true national bail bond network. Comprised of the most experienced and highest quality bail agents in the industry, ExpertBail helps consumers reduce the clutter in the bail marketplace and directs them towards a trusted, proven and experienced bail agent in a simple and transparent way. ExpertBail is backed by AIA, the oldest and largest family of bail bond insurance companies. With over 150 years of stability, trust and knowledge behind every bond written in the ExpertBail Network, its focus is on the consumer and helping them through a difficult time. The mission of ExpertBail and its network of agents is not only to meet the expectations of customers, but to exceed them substantially.
About AIA
The AIA Family of Companies has been partnering with agents across the country for over a century. Formed in 2003 as an alliance of the surety bail industry's leading companies Allegheny Casualty, International Fidelity and Associated Bond, AIA utilizes a unique "service-focused" approach to management that provides its family of agents with the knowledge, tools and commitment they need to grow their business and succeed. AIA has become the overwhelming industry leader in agent service, national coverage, bail written and number of agents.