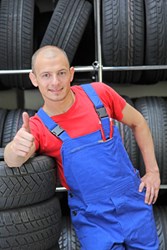 Burbank, CA (PRWEB) September 30, 2013
USA Business Insurance is announcing that tire retailers, wholesalers and other companies serving the tire portion of the automotive industry will have a Business Owners Policy included with their General Liability Insurance. General liability insurance protects the business owners from paying legal fees and medical bills when a customer gets injured on the business premises. While most shops have signs posted that do not allow customers near the service bays during installation and repairs, some customers ignore the postings and slip and fall in an oily or wet patch resulting in injury.
The general liability insurance will also cover the customers' personal property if it gets damaged in some way while on the shop's property. If necessary, this coverage would pay for any repairs or replacement if repairs cannot be made. It also covers any injury or damage that is caused by defective parts or inventory that was purchased from a third party. A customer may return months after the original purchase or service and claim they sustained injuries from something that was or was not done. The business owner is covered during these instances.
The portion of the policy called BOP or Business Owners Policy protects the owners' investment and property section of the business. Many points of interest in this coverage that can be customized to meet the individual needs of each business. Tire shops are dependent on their pneumatic tools and hydraulic lifts. If any of these become damaged and inoperable business could come to a halt and all daily income could be lost. BOP can include an equipment breakdown clause that would get the shop back in operation as soon as possible.
Building and contents coverage will protect the business owner if the physical premises or contents are damaged by a storm or other such occurrence. This can include inventory, office furniture, equipment, computers and their hardware and software plus tools that are stored within. If the shop owner was put in a position where he had to replace these items it could possibly result in severe financial hardship.
To learn how General Liability Insurance and a Business Owners Policy can protect tire shops and tire manufacturers visit http://www.businessinsuranceusa.com.