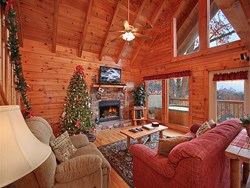 At Cabin Fever Vacations we believe that nothing beats a holiday vacation in the Great Smoky Mountains.
Pigeon Forge, TN (PRWEB) September 30, 2013
Imagine, you and your family are all cozied up together in front of a warm fire. Wistful holiday decorations are strewn around you, creating a warm and homey feeling. The only noises in the air are the birds chirping and the wind rustling in the trees. According to Cabin Fever Vacations, the premier Pigeon Forge cabin rental company, this and much more is available guests choosing to stay in one of their spacious mountain getaways during the holiday season.
In a vacation tip outlined by the Pigeon Forge cabin company on Sept. 23, Cabin Fever Vacations described their Pigeon Forge and Gatlinburg cabins decorated for the holidays as the perfect place for families to spend time relaxing together.
"At Cabin Fever Vacations we believe that nothing beats a holiday vacation in the Great Smoky Mountains," said a spokesperson for the Pigeon Forge cabin company. "The crisp mountain air mixed with the awe-inspiring mountain scenery creates the perfect escape for any family."
Holiday decorations inside the cabins include Christmas trees, wreaths, nativity scenes, and plenty of Santa Clauses. Other amenities located inside Cabin Fever Vacations' spacious Pigeon Forge and Gatlinburg cabins include fully-equipped kitchens, hot tubs, pool tables, movie theater rooms, high speed WiFi, and panoramic scenic Smoky Mountain views.
Along with the holiday decorations, guests of Cabin Fever Vacations will also enjoy taking advantage of the company's exclusive Pigeon Forge cabin discounts. For example, for the month of October and November the cabin rental company is offering guests staying two nights a free zipline pass and whitewater rafting pass, guests staying three or four nights will receive an additional night free, and guests staying five nights will benefit from a 25 percent discount off their entire stay. Military discounts, AAA discounts and AARP discounts are offered year round.
Established in 2000, Cabin Fever Vacations is a Tennessee-licensed, premier cabin rental company, offering the finest and most affordable luxury log cabins in the Smokies. With properties in Gatlinburg, Pigeon Forge, and Sevierville, Cabin Fever Vacations have cabins to meet every need. Cabin Fever Vacations office is located at: 2519 Sand Pike Blvd., Pigeon Forge, TN 37863.For more information regarding attraction packages or to create a customized attraction package, contact reservations(at)cabinfevervacations(dot)com or link to http://www.cabinfevervacations.com/ or call (866) 212-2246.