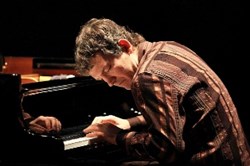 Easton, PA (PRWEB) September 27, 2013
Orpheus Chamber Orchestra's U.S. premiere of a new concerto by pianist Brad Mehldau will take place on Tuesday, Oct. 8 in Lafayette College's Williams Center for the Arts, Easton, Pa.
Performed with Mehldau at keyboard, the program will also include Beethoven's Third Symphony, "Eroica."
Lafayette is among the lead commissioners of the new work with generous funding from the F.M. Kirby Foundation and the Amaranth Foundation. The work will be recorded at Lafayette and issued for subsequent release on the prestigious Nonesuch label. The work is entitled (provisionally) "Brad Mehldau Variations on a Melancholy Theme, Live from the Williams Center."
Tickets for the 8 p.m. performance are $29 and can be purchased by calling the Williams Center box office at (610) 330-5009 weekdays between noon to 2 p.m. and 4 to 5 p.m., plus one hour before the performance. However, few tickets remain for the performance and last minute inquiries should be made the day of the performance at (610) 330-5009, and a limited number of stand-by tickets will be sold the evening of the performance at the box office, beginning at 7:00 pm.
Orpheus embarks on its fifth decade as a major player in the American cultural landscape with an exciting program that blends classics by Beethoven and Brahms with a newly commissioned concerto from pianist Mehldau, a brilliantly inventive composer and performer whose jazz credentials were grandly expanded three years ago when he was awarded the Richard and Barbara Debs Composer's Chair at Carnegie Hall—the first jazz artist to hold this position since it was established in 1995.
Orpheus's own orchestral arrangement of the lively dance rhythms of Brahms's Liebeslieder Waltzes opens the program, and the ensemble continues its full-throttle excursion through the Beethoven's symphonies with the evening's finale—Symphony No. 3, "Eroica."
###
Higher resolution photo available.
Kathleen Parrish
Associate Director of Media Relations
Lafayette College
Communications Division
Easton, PA 18042
parrishk(at)lafayette(dot)edu
http://www.lafayette.edu