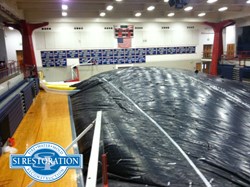 Safe and efficient mold remediation is key to protecting the welfare of anyone who spends their days inside a school.
Mount Laurel, NJ (PRWEB) September 27, 2013
Mold specialists SI Restoration have been servicing locations in the Mid-Atlantic region of the United States for over twenty years It is no surprise that they have earned a reputation as an authoritative source for reputable information, diagnosis, and eradication of toxic mold. Since mid-July, SI Restoration's service area has seen a dramatically high indoor mold spore index according to Weather.com's daily Pollencast Report. Service call volume has reflected the elevated index of mold spores, particularly in public forums such as schools and hospitals.
In SI Restoration's latest report simply titled Mold in Schools, the mold remediation expert offers parents, teachers, faculty, and students an opportunity to familiarize themselves with the dangers of the toxic fungus. Hundreds, if not thousands, of people spanning all ages frequent elementary schools, high schools, universities, trade schools, and colleges on a daily basis. Should a toxic mold colony make its home in any of these buildings, deadly symptoms and reactions could spread rampantly.
Perhaps the most notable piece of advice in SI Restoration's report is also the most obvious. However, no matter how apparent it may be for faculty or students to report a suspected mold problem, all too often mold growth is swept under the proverbial rug. This neglectful approach will only cause the toxic fungus to spread its spores, cross contaminating other areas of the school, and endangering the health and welfare of its students and staff.
Safe and efficient mold remediation is key to protecting the welfare of anyone who spends their days inside a school. Whether the colonies have grown due to water damage, flooding, or severe storms, the spores must be eradicated promptly and safely.
Another tip the report offers is geared toward contracting a reputable commercial mold removal specialist. The author of the report highlights significant factors that must be weighed in order to choose a contractor who will follow stringent federal guidelines for use of safe materials while providing certified technicians.
Since state laws do not govern the mold remediation process, schools want to ensure their contractor is certified with the IICRC. The Institute of Inspections Cleaning and Restoration Certification is a non-profit, third-party entity who governs the restoration industry. Their IICRC S520 Guidelines for Mold Remediation will ensure that students and faculty are protected during the removal process.
Taking proper precautions and exacting precise measures is key to the health and welfare of the nation's most precious institutions; its schools.