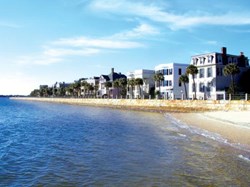 "Charleston offers attendees a top-notch location with excellent attractions. The SCAV schedule of presentations has something for everybody."
Columbia, SC (PRWEB) September 29, 2013
South Carolina Association of Veterinarians (SCAV), will return to Charleston, the top-rated city in the United States, for its annual Lowcountry Conference October 24-27th.
Charleston was voted best city in the US for the second year in a row by the Condé Nast Traveler Readers' Choice Awards and SCAV is looking forward to hosting their conference there. The award was based on six aspects of a city which were atmosphere, culture, friendliness, lodging, restaurants and shopping.
Charleston's amenities mixed with the exciting schedule SCAV has planned should make for a great weekend for veterinarians and their families. Scheduled at the Charleston Marriott, the Conference will feature 28 hours of continuing education for veterinarians, veterinary technicians, veterinary practice managers and support staff and there will be a special event Friday, October 25th that will feature a catamaran ride around Charleston's most haunted spots.
The sessions being held are very diverse and feature a wide range of topics including basics of laparoscopy, equine viral Enceph¬alomyelitis, canine leptospirosis, and a small animal academy focusing on canine and feline diabetes. Conference information is available online at http://www.scav.org.
Lowcountry Conference Chair, Todd Brown of On Point Animal Hospital in North Myrtle Beach, shared his thoughts on the city and conference, "Charleston offers attendees a top-notch location with excellent attractions. The SCAV schedule of presentations has something for everybody."
Established in 1911, SCAV is a not-for-profit association representing veterinarians. The Association strives to advance the science and art of veterinary medicine by providing opportunities for professional education and development and by enhancing the relationships between veterinarians, agriculture, pet owners, government and the public at large; and to protect the public health by promoting proper involvement in human and animal health care by the veterinary profession.